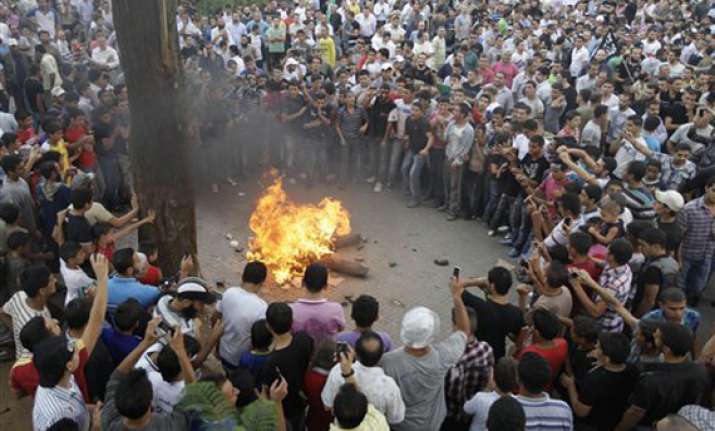 Beirut, Oct 22 : Inspired by the scenes of euphoria in Libya, Syrian protesters poured into the streets on Friday  and shouted that President Bashar Assad's regime will be the next to unravel now that ousted Libyan dictator Muammar Gaddafi is dead.

Syrian forces fired on protesters today, killing at least 24 people, activists said, most of them in the central city of Homs, a hotbed of dissent.

"Gaddafi is gone, your turn is coming, Bashar," protesters shouted in the central city of Hama, long a hotbed of resistance to the regime.

The Syrian uprising has proved remarkably resilient over the past seven months, but has shown some signs of stalling in recent weeks as the government forges ahead with a bloody crackdown that the UN estimates has killed more than 3,000 people.

Although the mass demonstrations in Syria have shaken one of the most authoritarian regimes in the Middle East, the opposition has made no major gains in recent months, it holds no territory and has no clear leadership.  Now the armed uprising in Libya that drove Gaddafi from power, albeit with NATO air support, appears to have breathed new life into the Syrian revolt.

"Our souls, our blood we sacrifice for you, Libya!"Syrian protesters chanted today. Others held signs linking Assad's fate to those of other deposed Arab leaders. Tunisia's Zine El Abidine Ben Ali has been driven into exile, and Egypt's Hosni Mubarak is in jail and facing charges of complicity in the deaths of more than 800 protesters in his country's uprising.