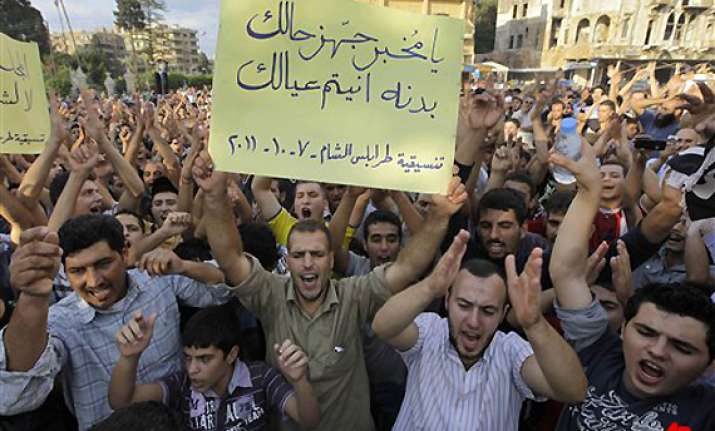 Damascus, Oct 15: Syrian forces killed at least 12 people today as they fired on rallies supporting army defectors opposed to a crackdown that the UN said has cost more than 3,000 lives.

"Twelve people were killed today" and dozens wounded, Rami Abdel Rahman of the Britain-based Syrian Observatory for Human Rights told AFP by telephone.  Security forces killed seven people in Dael, a woman and a boy in the flashpoint town of Daraa, both in southern Syria, two in and around Damascus and another on the outskirts of Aleppo, he said.

The state news agency SANA denied the presence of security forces in Dael.

"There were massive demonstrations in several Syrian cities despite a significant deployment of security forces," Abdel Rahman said, including a rally in Deir Ezzor, "the largest since military operations ended there in August."
Syrians also staged demonstrations in the northwestern province of Idlib, where thousands of people rallied in Maaret Horma; the central region of Homs, the coastal city of Latakia and in Damascus, he said.

"Security forces opened fire in Homs and in Deir Ezzor.  In (the western city) of Banias, they entered the Abu Bakr Saddiq mosque, where demonstrators had taken shelter, arresting five among them," he said.

Pro-democracy activists called for nationwide demonstrations on Friday in support of "free soldiers"—a reference to defectors—after 36 people, including 25 soldiers, were killed in clashes across Syria on Thursday.

The Observatory has reported mounting armed resistance to security forces. Clashes in Banash and Daraa on Thursday pitted troops against deserters, who apparently mutinied rather than obey orders to shoot civilian protesters.