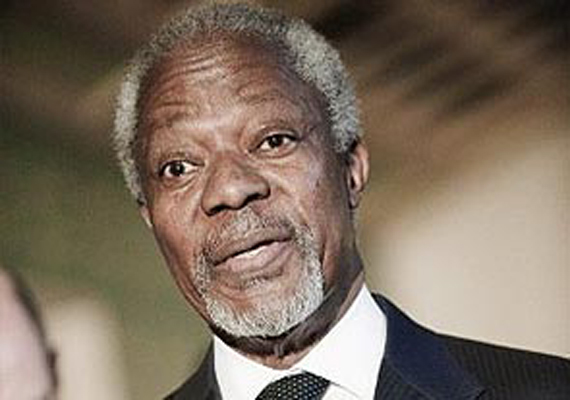 United Nations, Mar 10 : Kofi Annan, the new Syria envoy, will meet Syrian President Bashar Assad in Damascus on Saturday morning and deliver a message that all violence must stop, the U.N. chief said on Friday.

Secretary-General Ban Ki-moon told reporters that Annan's priority is to immediately halt all fighting by government forces and opposition fighters - if not simultaneously, then first by government troops, followed by the opposition.

Mr Ban said a cease-fire should be quickly followed by inclusive political talks to resolve the yearlong conflict.

Diplomats say this could prove difficult because opposition leaders have already rejected calls for dialogue, saying only more military aid can stop Assad's deadly crackdown.

The Syrian conflict is now one of the bloodiest of the Arab Spring, with the U.N. saying more than 7,500 people have been killed. Activists put the number at more than 8,000.

Mr Annan, the former U.N. secretary-general, was appointed last month as the joint special envoy of the United Nations and the Arab League.

Mr Ban said he held a half-hour teleconference Friday morning with Annan and Arab League Secretary-General Nabil Elaraby.

"I'm encouraged by very close coordination between me, my office, Kofi Annan and Elaraby," Mr Ban said. "Basically all three of us share (the) same concerns and same priorities in approaches."

While in Damascus, Mr Ban said Mr Annan also plans to meet other government officials and representatives of civil society and the humanitarian community.

Mr Annan plans to leave Damascus on Sunday and then will visit some key countries in the region to gain stronger support for his mission, Ban said.

"Outside of Syria, he will be engaging with opposition forces - opposition leaders," the secretary-general said.

Mr Ban said Mr Annan will also be following up on U.N. humanitarian chief Valerie Amos' just concluded visit to Syria and will urge Assad to facilitate humanitarian assistance and access.

Mr Ban said that in a teleconference with Ms Amos on Friday, the humanitarian chief told him that what she saw in the central city of Homs and the Baba Amr neighborhood, which the government seized from rebels last week after weeks of siege and shelling, was "terrible."

"She was extremely concerned. There were no people almost, nobody left. They must have relocated somewhere. The facilities have been completely destroyed. This is quite serious and alarming situation in terms of ... humanitarian assistance and human rights," the U.N. chief said.

He said Syria has agreed to a joint mission to assess the country's humanitarian needs, and the U.N. will follow up with Ms Amos, who was returning to New York late on Friday.

Ms Amos has submitted a proposal to the Syrian government to allow unhindered access to evacuate the wounded and deliver desperately needed supplies, and Mr Ban said Mr Annan would be pushing for this during his talks in Damascus.