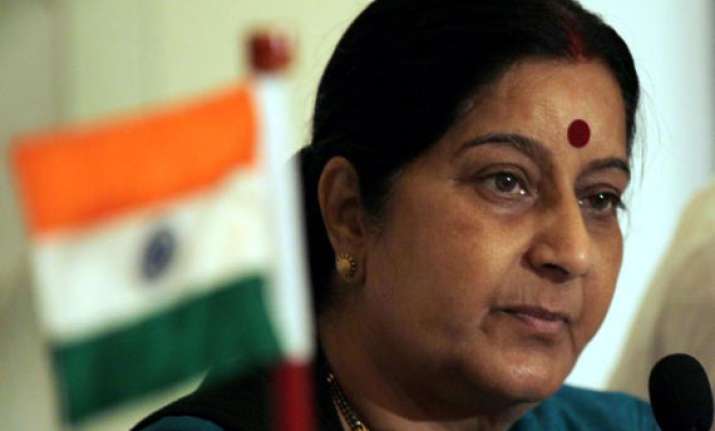 Hanoi: Seeking a more dynamic relationship with strategically-important Vietnam, External Affairs Minister Sushma Swaraj arrived here today for talks with the country's top leadership during which cooperation in defence, agriculture, pharmaceuticals and textiles would be in focus.  
The crucial three-day visit comes just days after Vietnam renewed India's lease of two oil blocks in South China Sea for another year, a move that could rile China.  It also comes ahead of next month's visit by President Pranab Mukherjee.
During her visit, Swaraj will also chair a meeting of the heads of Indian Missions in the region besides inaugurating the 3rd Round-table of the ASEAN-India Network of think tanks.  "India and Vietnam enjoy excellent political relations. We expect that the External Affairs Minister's visit to Vietnam will pave the way for high-level exchange of visits between India and Vietnam during the course of the year," MEA spokesperson Syed Akbaruddin had said.  
India and Vietnam have a tradition of exchanging high-level visits. The last high level visit from Vietnam was by the Secretary General of Vietnamese Communist party Nguyen Phú Trong, last November.
Both the countries also have fairly robust economic ties and the bilateral trade stands at USD 8 billion, of which Indian exports to the country is about USD 5.4 billion.  "We see prospects in the current situation in terms of enhancing our ties including in areas such as textile, pharmaceuticals and agricultural products," Akbaruddin had said.
Asked if the issue of defence cooperation, which Vietnam is keen for, will be discussed, he said "in the world of diplomacy, some things are better left unsaid and defence cooperation is one of those".
The Southeast Asian nation had recently renewed India's lease of two oil blocks off its coast in an area disputed with China in the South China Sea.
According to Indian diplomats, Indian oil companies have felt, for techno-commercial reasons, that they would like to avail the opportunity to explore those oil blocks for a further period of one year.
Earlier the companies had found that it would be difficult to utilise those because of lack of availability of deep sea rigs there.
"However, they had extended for a two-year period (in 2012) and since then, the situation in terms availability of such rigs has improved. So Indian oil companies have agreed to extend the option to explore for another year," an official said.
The issue is likely to come up for discussion when Swaraj will hold meetings with her Vietnamese counterpart and call on the top leadership.
Swaraj will also inaugurate, along with her Vietnamese counterpart, the 3rd Round-table of the ASEAN-India Network of think-tanks. The think-tank from Indian side which coordinates this is Research and Information System for Developing Countries (RIS).
The minister has also convened a meeting of Indian Heads of Missions in the region that is in Southeast Asia and East Asia, on August 26. It is expected that 19 Indian heads of missions from that region will be participating in the brainstorming session.
The Mekong-Ganga project will also be discussed.