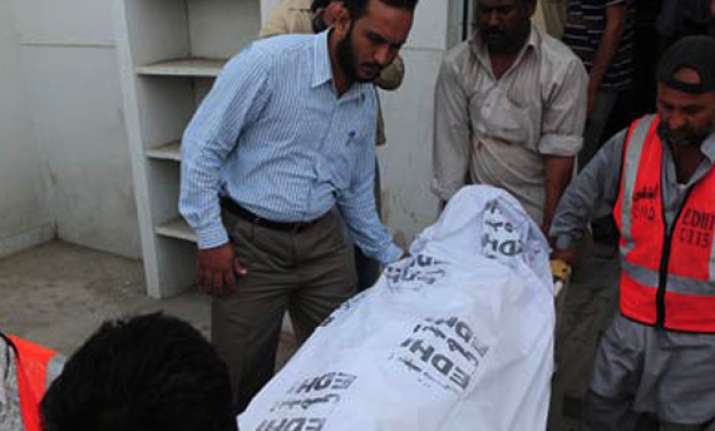 Karachi, Apr 5: A suicide bomber today targeted the motorcade of a senior police officer in the southern Pakistani port city of Karachi, killing four persons and injuring 14 others, officials said.
Witnesses said the attacker, who was riding a motorcycle, first opened fire and then blew himself up near an armoured vehicle in which Special Superintendent of Police Rao Anwar was travelling.
The Tehreek-e-Taliban Pakistan have claimed responsibility for the suicide bomb attack. 
"It was a suicide attack definitely. The bomber rammed his motorcycle into the police convoy," Brigadier Javed Iqbal of Pakistan Rangers said.
Iqbal said the suspected bomber apparently was killed in the attack in which six to seven kilogrammes of explosives were used. 
The attack occurred at a busy traffic roundabout in Malir area of Karachi. Four persons were killed instantly, witnesses and police officials said.
The injured were taken to nearby hospitals and officials said three of them were in a serious condition. SSP Rao Anwar said the attacker had hit the armoured vehicle with his motorcycle.
"People ran in panic after the blast. One of the policemen in my team was injured. There was an intelligence report about a month ago on the threat to us," Anwar said. 
He had carried out a raid on a religious seminary on the outskirts of the city where the students were said to be trained into suicide bombers and where children were chained in the basement.
"It was an attack on me and my police convoy," Anwar said, who escaped unhurt as he was riding in another vehicle. 
Anwar was going with the police convoy to the Malir court to appear in the murder case of ex-Malir Bar Association president Salahuddin whose killing has been attributed to the banned outfit Sipah-e-Sahaba.