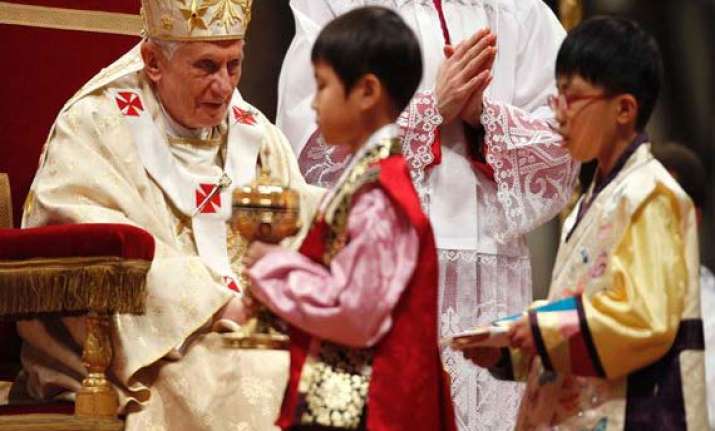 Vatican City, Dec 25 : Pope Benedict XVI presided over Christmas Eve Mass at St. Peter's Basilica on Monday.
A smiling Benedict, dressed in gold-coloured vestments, waved to photo-snapping pilgrims and applauding church-goers as he glided up the centre aisle towards the ornate main altar of the cavernous basilica on a wheeled platform guided by white-gloved aides.
The platform is employed to save the 85-year-old pontiff's energy.
As a men's choir chanted, Benedict sprinkled incense around the altar, and wished the faithful "peace" in Latin.
During his speech he asked what he thought to be the most pressing question for people the world over: will they find room in their hectic, technology-driven lives for children, the poor and God?
The pontiff also prayed that Israelis and Palestinians live in peace and freedom, and asked the faithful to pray for strife-torn Syria as well as Lebanon and Iraq.
A few hours before Mass, Benedict lit a Christmas peace candle and set it upon the windowsill of his studio window overlooking St. Peter's Square.
The ceremony began at 10 pm (2100 GMT) on Monday night instead of the traditional midnight start time.
The schedule was changed at the Vatican years ago to let the pontiff rest before he is to deliver a Christmas Day speech hours later from the basilica's central balcony.
That address is to be delivered at midday Tuesday from the basilica's central balcony.