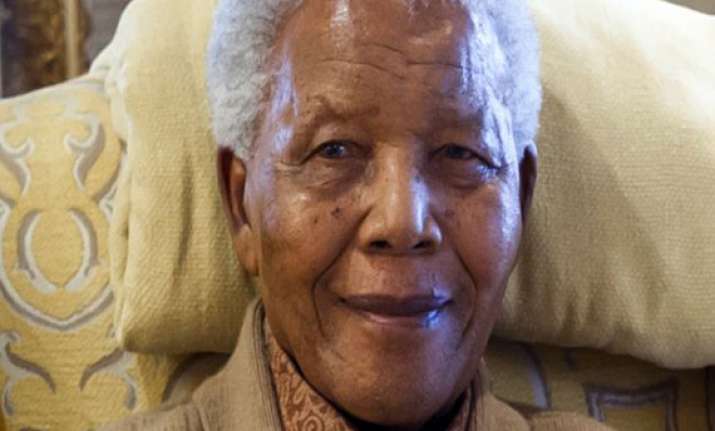 Johannesburg, Jul 18:  South Africa today celebrated the 95th birthday of former president Nelson Mandela, with the good news that the ailing anti-apartheid hero's health condition has steadily improved.
South Africans got united to celebrate the democracy icon's birthday in diverse ways not seen since the euphoria of the 2010 FIFA World Cup hosted in the African country.
Mandela, regarded the founding father of South Africa's multi-racial democracy, was admitted to a Pretoria hospital on June 8 for a recurring lung infection. Mandela has been
hospitalised four times since December.
School children across the country kicked off the celebrations by singing "Happy Birthday" to their beloved Madiba, as the revered global statesman is fondly known.
Mandela's birthday has been designated International Mandela Day by the United Nations.
A "67 minutes for Mandela campaign" was also launched in South Africa, encouraging all citizens to donate 67 minutes of their time in some form of community service to mark the number of years he spent fighting to end apartheid and bring democracy to South Africa.
Even as Mandela spent his 41st day in a Pretoria hospital, hundreds of people gathered outside the hospital carrying messages of goodwill and flowers for Mandela.
President Jacob Zuma today wished the founding father of the nation a "joyous" birthday. "Madiba remains in hospital in Pretoria but his doctors have confirmed that his health is
steadily improving," said a statement issued by the office of Zuma.
"...we wish Madiba a joyous 95th birthday. We are proud to call this international icon our own as South Africans and wish him good health," Zuma said.
Mandela had a long history of lung problems, dating back to the time when he was a political prisoner on Robben Island during apartheid. While in jail he contracted tuberculosis. Mandela is revered for leading the fight against white minority rule in the African country and then preaching reconciliation despite being imprisoned for 27 years.
He served as the country's first black president from 1994 to 1999. He left power after five years as president. Mandela, respected across the globe as a symbol of resistance against injustice, was awarded the Nobel Peace Prize in 1993.
He retired from public life in 2004 and has not been seen in public since the football World Cup final in 2010.
US President Barack Obama wished Mandela and called on people to honour the South African leader by taking part in Nelson Mandela Day.
"On behalf of our family and the people of the United States, Michelle and I extend our warmest wishes and prayers to Nelson Mandela on the occasion of his 95th birthday, as
well as to Graca Machel, the Mandela family....," Obama said in a statement.
Meanwhile, Mandela's daughter Zindzi said her father had made "dramatic progress". "I should think he will be going home anytime soon," she told Sky News television.
"I visited him yesterday (Tuesday) and he was watching television with headphones," said Zindzi said. "He gave us a huge smile and raised his hand... He responds with his eyes and his hands."
Today also marked the 15th anniversary of Mandela's marriage to Graca Machel, his third wife.
Greening and renovation of schools and public institutions such as hospitals; providing food, clothing and housing to the needy and aged; extended hours for blood donation; and special medical facilities for the day were some of the features all over the country as millions of people responded to the earlier call by Zuma for South Africans to make this year's Mandela Day the best ever.
Zuma himself handed over houses to a community of poor white people, previously privileged above the needs of the majority Black community, at a Pretoria township not far from the hospital Mandela is still recovering in.
At Inanda near Durban, the historic site where the founding president of the African National Congress John Dube and Mahatma Gandhi worked side by side, people were given the opportunity to leave tributes and messages on the Mandela Tribute Wall.
The site, next to Gandhi's Phoenix Settlement, is where Mandela first cast his vote in 1994 to usher in democratic South Africa to become the country's first Black president
after spending 27 years in prison.
Two South African Indian singers, Ramesh Hassan in Durban and Ganie Parker in Cape Town, have independently of each other composed special songs in tribute to Mandela. Parker's entertaining music video, in Urdu, incorporating cartoon animals, while Hassan's song is in Urdu, Zulu and English.