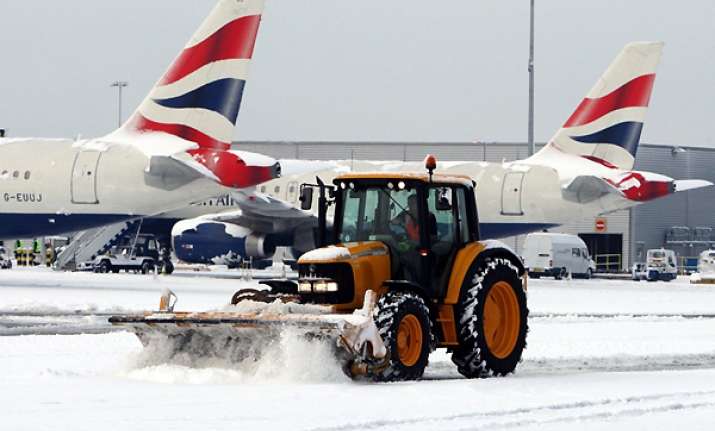 London, Feb 6: Some flights to Mumbai scheduled to depart from London's Heathrow airport on Sunday night were among half of scheduled 1,300 flights cancelled as authorities grappled with the fallout of snow and icy conditions across transport links in Britain.

Conditions of several arterial roads were described as "treacherous", as tempers ran high at Heathrow when hundreds of flights to destinations in Europe, US, India and other countries were cancelled.

Trains were also delayed, and cars abandoned on clogged motorways.

According to information from Heathrow, the following India-bound flights tonight were cancelled: 9W117 to Mumbai, AC6004 to Mumbai, UA9822 to Mumbai, VS9117 to Mumbai, IT002 to Delhi.

Other India bound flights tonight were described as "scheduled".

Snow conditions also adversely affected flights from other airports in Britain.

Many people spent the night in cars when traffic grounded to a halt on roads as swathes of snow swamped Britain amidst severe warnings by the weather office.

Hundreds of vehicles were stranded on the arterial M25 and M40 motorways, with drivers forced to spend the night in their cars.

Authorities at the Heathrow airport cautioned that due to adverse weather across the UK and Europe, "Heathrow is operating a reduced flight schedule today."

"If you are travelling today or over the next couple of days, please check your flight's status with your airline before setting out and allow extra time for your journey to the airport as the road and rail networks may be affected," A a Heathrow statement said.