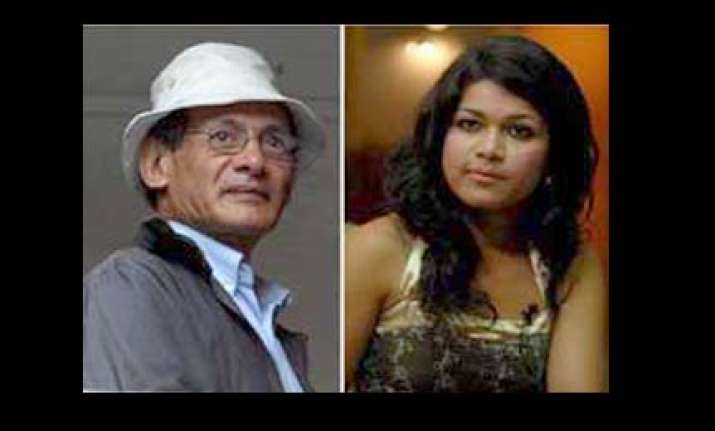 Kathmandu- Nihita Biswas, the wife of Charles Gurmukh Sobhraj, on Tuesday met Supreme Court officials after she was summoned to appear before it for contempt of court following her outbursts against its decision to uphold the life sentence of the 'bikini killer'.
 The 22-year-old Nepali beauty went to the court and informally met some officials. She did not say anything on record before the court and her visit was informal, senior court official Hemanta Rawal told PTI today.  Rawal said Biswas might have come to inquire about the summon to her and her mother Shakuntala Thapa, who is also Sobhraj's laywer.  
The apex court on Sunday asked Biswas and her mother to appear before it by Friday to furnish clarification on the charges of contempt of court.  The court official said Biswas and her mother have two more days to furnish explanation on why action should not be taken under the contempt of court proceedings.  They had accused the judges of corruption following the final verdict in the case on July 30 which dashed Sobhraj's hope for freedom.  After hearing the final verdict upholding the life imprisonment for Sobhraj, Biswas and Thapa had abused the judges, saying they took bribe and gave biased judgment.  
The court's directive came in response to a petition filed by advocates Rajan Adhikari and Shanta Sedhain, who accused the duo of contempt of court.  A single bench of Justice Ram Kumar Prasad Shah ordered the police to arrest the accused if they did not surrender within the timeline and present them before the apex court, court officials said.  Justice Shah was one of the two judges who announced the verdict in the 1975 sensational murder case of American tourist Connie Jo Bronzich. 
Many television channels had recorded the outbursts by Thapa and Biswas against the apex court.  If convicted for contempt of court, they face one year imprisonment and/or Rs.10,000 fine as punishment if their explanations were not found satisfactory.  66-year-old Sobhraj, a French national whose father was an Indian and mother a Vietnamese, was sentenced by the lower courts to a 20-year life term for the murder of Bronzich and one year jail and Rs 2,000 fine in the fake passport case. He has already spent seven years in prison. PTI