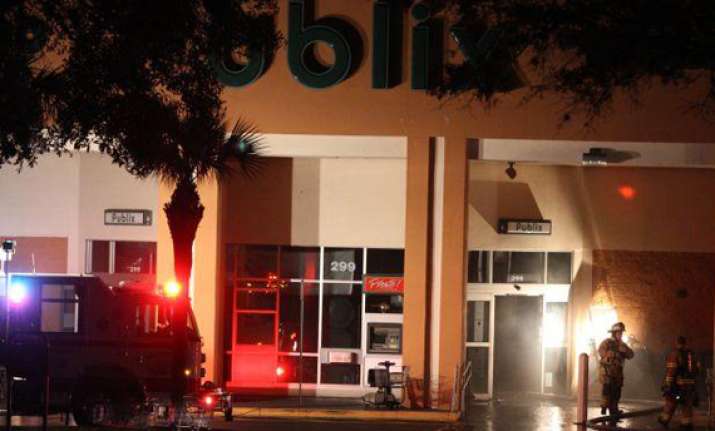 Deland, Apr 3: A small plane crashed into a central Florida shopping centre on Monday evening, authorities said, and reports indicated at least five people had been injured.
Several people at the shopping centre called emergency services around 7.20 p.m. to report the crash, sheriffs said.
The callers described seeing the plane sputter, then hit the building and burst into flames at the shopping centre located not far from Deland's municipal airport.
The sheriff's office reports a pilot and a passenger aboard were airlifted to Orlando Regional Medical Centre.
Separately, The Daytona Beach News-Journal (http://bit.ly/HE0d4a) said emergency workers reported at least five people were injured, two of them with burns.
A News-Journal photographer at the scene said the plane appeared to have crashed into the roof of the supermarket.
Deland is about 20 miles (32 kilometres) west of Daytona Beach.
Roth Peeler, who lives about 300 feet (91 meters) behind the store, told the Orlando Sentinel (http://thesent.nl/HE49Su ) he saw the plane go down.
"A small single-engine, yellow plane spiralled right down and through the roof and just exploded," Peeler said. "Not a piece of the plane came out. It's all in the store.
"I went around the front and saw people running out of the store and trying to get into their cars and out of the parking lot."
The Sentinel reports that smoke continued to pour out of the building, which was surrounded by about 20 fire trucks at one point. Roads in the area were also shut down.
A news photograph published online by the News-Journal showed rescue and emergency vehicles with lights flashing crowding around the shopping centre and a fire truck with its ladder extended.