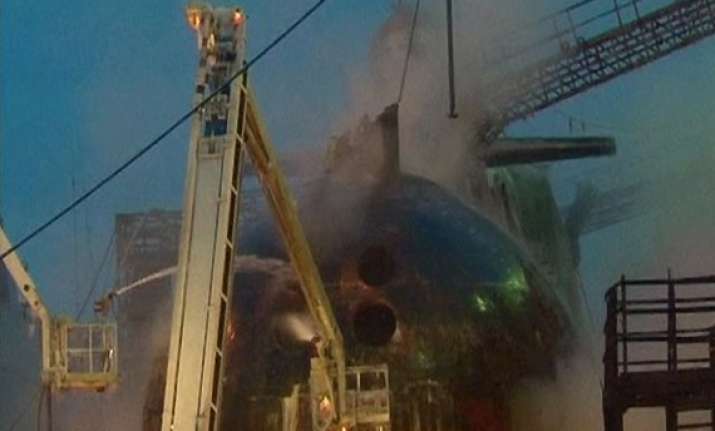 Moscow, Dec 30: A massive fire that engulfed a docked Russian nuclear submarine in the northern Murmansk region and left nine people ill with toxic fumes was put out today, with authorities saying that there was no radiation leak and announcing a probe into the incident. 

The Yekaterinburg Delta-class nuclear submarine had caught fire yesterday during repairs at a shipyard in Murmansk.

"The fire has been contained," Emergencies Minister Sergei Shoigu was quoted as saying by RiaNovosti news agency.  Officials said there was no radiation risk as the nuclear submarine's two reactors had been shut down.

President Dmitry Medvedev ordered the Prosecutor General's Office to thoroughly investigate the incident and punish those responsible.

Besides, he instructed Deputy Prime Ministers Igor Sechin and Dmitry Rogozin to take all necessary measures for the restoration of the damaged submarine.

Nine people suffered from smoke inhalation while battling the fire. Seven of them were servicemen and two others were emergency ministry personnel, Russian media reported, adding they had been hospitalised..

Russia's Northern Fleet spokesman Capt. 1st Rank Vadim Serga earlier said wooden scaffolding around the submarine caught fire, which spread to the vessel's outer hull.

Delta-class submarines have an outer skin of anechoic rubber, designed to absorb sound from sonars to make the boat harder to detect, but it could burn in a dry environment.

The K-84 Yekaterinburg nuclear submarine is one of the seven Delta-IV class submarines in service, forming the core of the naval component of the Russian nuclear triad in the Northern Fleet. Each submarine can carry up to 16 inter-continental ballistic missiles.

Firefighters battled the blaze for nine hours after it broke out.

Officials said there was no radiation leak because the reactors had been shut down before repairs began.  Some crew members were reportedly still on board the submarine, but their number was not immediately known. 

Military investigators have opened a criminal case into charges of "the destruction or damage of military property due to negligence," a spokesman from the Investigation Committee said.

Fire safety violations during routine maintenance works are being seen as the most likely cause of the blaze at the floating repair dock.