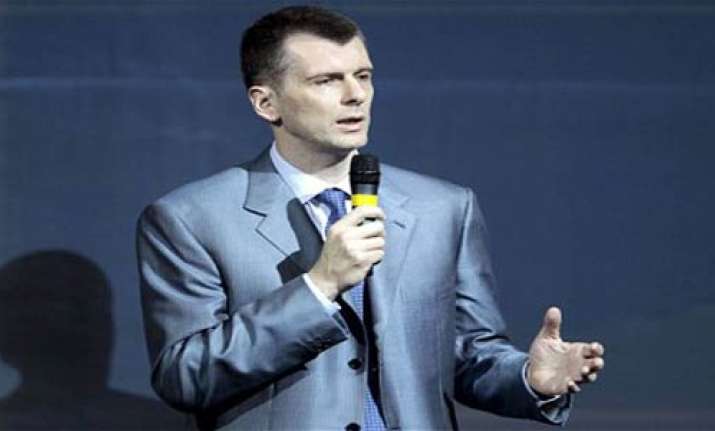 Moscow, Jun 27 : Russia's third richest man, metals and mining magnate Mikhail Prokhorov has been elected leader of the liberal Right Cause Party on Saturday. He immediately promised thereafter that he would challenge Vladimir Putin's United Russia Party's stranglehold on power, reports The Daily Telegraph.

]"Our country is called the Russian Federation, but by structure it is an empire. Only presidential power works here, and this kind of governance cannot provide stability let alone development," the 46-year-old oligarch said.

"We need to take back parliament by becoming the second largest party in the near future, and then later the largest."

Prime Minister Putin is known to be actively eyeing a return to the presidency, a job he held from 2000-2008.

Meanwhile, President Dmitry Medvedev, the incumbent and Putin's handpicked presidential successor, has said he would like to run again but could not imagine running against Mr Putin.

With a fortune estimated by Forbes magazine at £11.25 billion, Prokhorov is rated as Russia's third richest man and his political debut comes ahead of a parliamentary election in December and a presidential poll in March.

Yet few believe that his foray into politics, the first by an oligarch since tycoon Mikhail Khodorkovsky was arrested in 2003 after challenging Putin, does not have the Kremlin's blessing.

Amid signs that the ruling party is losing some support after more than a decade of dominance, analysts say the Kremlin is keen to give people another choice and to gradually move towards a tightly controlled two-party system.

Prokhorov, who enjoys good relations with Putin and Medvedev, says: "I suggest we exclude the word opposition from our lexicon. For our citizens, the word opposition is associated with marginal players who have lost contact with reality."Prokhorov is best known in the West for being named in an alleged prostitution scandal in France in 2007 and for owning the New Jersey Nets basketball team.