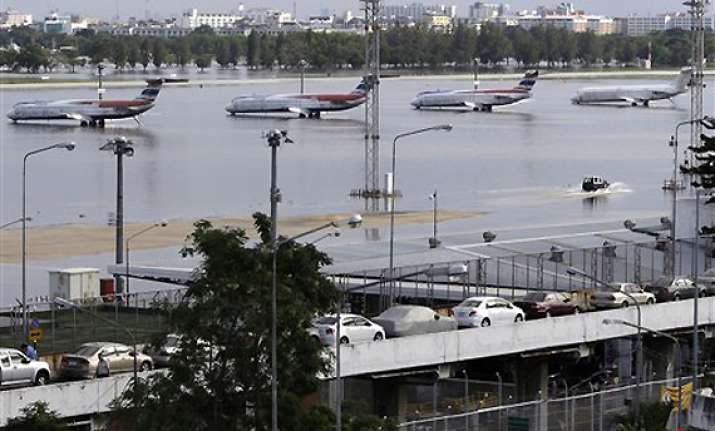 Bangkok, Oct 28: Saffron-robed monks and soldiers piled sandbags outside Bangkok's most treasured temples and palaces today as Thailand's worst floods in decades sent ankle-high water rushing briefly into some of the capital's main tourist districts.

High tides expected to peak on Saturday will be one of the biggest tests yet of Bangkok's anti-flood defenses. For days, the city's main Chao Phraya river has spilled its banks, forcing water into riverside streets from Chinatown to the white-walled royal Grand Palace and the neighboring Temple of the Emerald Buddha.

Most of the water has receded at low tide. But some worried residents, fearing the worst is yet to come, are buying up bright orange lifejackets and inflatable boats. 

"You have to prepare," said Fon Kanokporn, a banker who bought a rubber boat from a store that had several hanging as advertisements from trees out front.

Employees at the shop said they had sold well over 3,000 boats in the last week. The brisk business is a measure of the fear gripping Bangkok and a reflection of the tragedy of neighboring provinces that have been submerged for weeks. 

Several buyers said they needed boats because their submerged homes outside the capital were no longer accessible by road.

Three months of relentless monsoon rains have caused the worst flooding in Thailand in nearly 60 years, triggering a national crisis that has overwhelmed the government of Prime Minister Yingluck Shinawatra.

The water has crept from the central plains south toward the Gulf of Thailand, engulfing a third of the country and killing nearly 400 people and displacing 110,000 more. Now, Bangkok is in the way surrounded by behemoth pools of water flowing around and through the city via a complex network of canals and rivers.