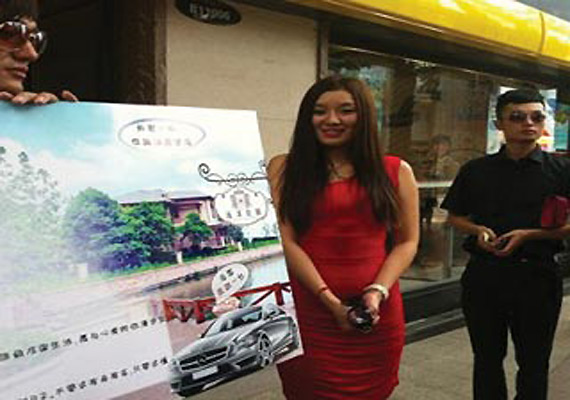 Beijing, Sep 4: A young Chinese woman, who owns a villa, a luxury car and has a hefty pay package, is looking for love on the streets of China's Wuhan city, complete with a banner that seeks "a man with a true understanding of life".
"Rich, beautiful overseas-returnee with a villa, a Benz and an annual salary of 300,000 yuan ($47,100) is seeking a man with a true understanding of life," says the banner held by the three bodyguards in a square in Wuhan, Hubei province.
Wearing a red dress, Yezi said she had just finished studying overseas in Canada and came to the square to find a husband, reported Global Times citing Wuhan Morning News.
"I was born in Wuhan, and I also want to find my husband here," Yezi was quoted as saying.
"I don't need him to be rich. I only ask for a better understanding of life."
She adopted this manner of hunting for a husband as it was a more direct approach.