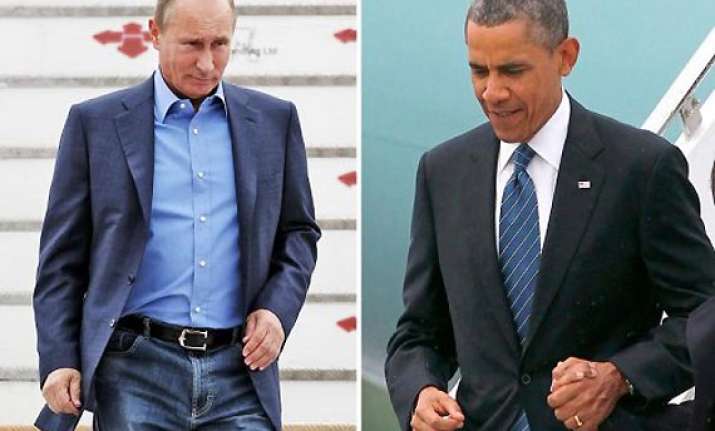 Moscow: Russian President Vladimir Putin called President Barack Obama on Friday to discuss a diplomatic solution to the Ukrainian crisis, while Ukraine's fugitive leader urged a nationwide referendum that would serve Moscow's purpose of turning its neighbour into a loosely knit federation.
The statement from Viktor Yanukovych, the former Ukrainian president who fled to Russia last month after three months of protests, raised the threat of more unrest in Ukraine's Russian-speaking eastern provinces, where many resent the new Ukrainian government.
Also on Friday, Russian Defence Minister Sergei Shoigu told Putin the Ukrainian military withdrawal from Crimea was complete. Ukrainian soldiers were seen carrying duffel bags and flags as they shipped out of the Black Sea peninsula that Russia has annexed.
While Yanukovych has practically no leverage in Ukraine, his statement clearly reflected the Kremlin's focus on supporting separatist sentiments in eastern Ukraine.
The White House said that Putin called Obama Friday to discuss a U.S. proposal for a diplomatic resolution to the crisis in Ukraine, which U.S. Secretary of State John Kerry presented to Russian counterpart Sergey Lavrov earlier this week. Obama suggested that Russia put a concrete response in writing and the presidents agreed that Kerry and Lavrov would meet to discuss the next steps.
"President Obama noted that the Ukrainian government continues to take a restrained and de-escalatory approach to the crisis and is moving ahead with constitutional reform and democratic elections, and urged Russia to support this process and avoid further provocations, including the buildup of forces on its border with Ukraine," the White House said in a statement.
A White House official, who wasn't authorized to comment by name and demanded anonymity, said that Obama and Putin spoke for an hour. He said the plan was the old off-ramp roadmap that had been drafted before Russia annexed Crimea last week.