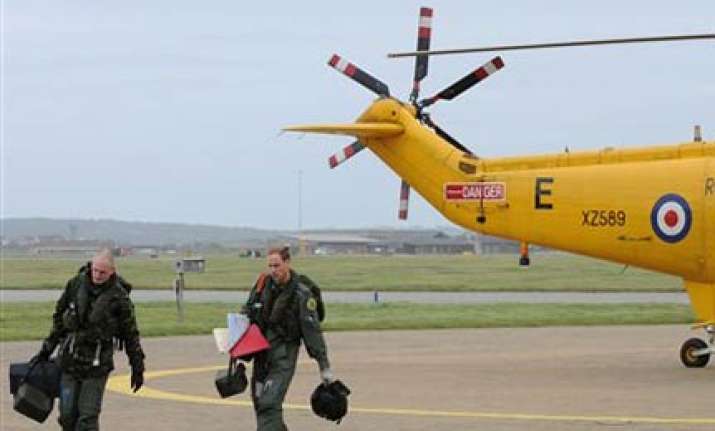 Britain's Prince William, who is second in line to the throne, has successfully undertaken his first mission as a Royal Air Force search and rescue helicopter co-pilot, lifting an ill worker from an off-shore gas rig, his office said on Tuesday.
28-year-old Prince William was among the crew of a Sea King helicopter called to a rig in Morecambe Bay, off the coast of northwestern England on Saturday. A spokesman for the Prince said: "Prince William is pleased finally to be able to contribute to the lifesaving work of the search-and-rescue force. He is proud, after two years of intense training, to be able to serve in one of Britain's foremost emergency services."
Weather conditions were described by the Sea King's crew as being, "squally winds, which produced some moderate turbulence around the rig's helicopter landing platform." Squadron leader Dave Webster said the Prince performed "exactly as we would expect anyone new qualified to perform and to the standard that is required." He said, "the landing did have some minor complications caused by some moderate turbulence around the superstructure of the rig and the helicopter landing platform. It was nothing that they were not prepared for and nothing that had not been covered in their training."
It said the royal's Sea King helicopter, call sign was scrambled by the Liverpool coast guard office, and took about half an hour to fly to the rig from the crew's base at RAF Valley, in Anglesey, north Wales, on the Irish Sea coast. The ill man was quickly assessed by the RAF Winchman before Prince William and his team successfully transferred him over water to a helicopter landing site just a short ten-minute flight away, from where he was taken to Blackpool Victoria hospital by ambulance.
The Ministry of Defence released footage of the rescue and images of the Prince discussing the mission with the captain of Rescue 122 as they landed back at base. The Prince has described Search and Rescue as the "perfect opportunity" to serve the forces operationally, having been unable to deploy to Afghanistan for security reasons whilst serving in the Army as a lieutenant in the Blues and Royals. PTI