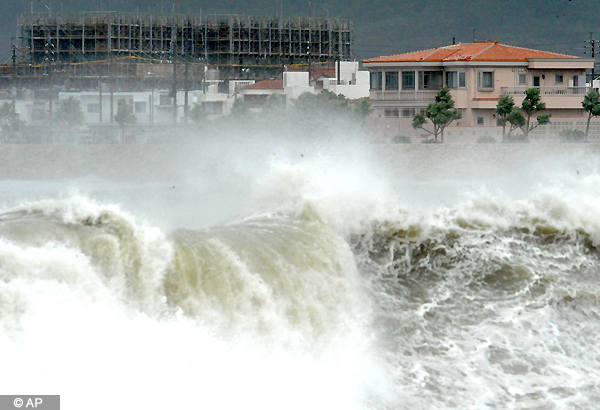 Tokyo, Aug 26: A powerful typhoon lashed the southern Japanese island of Okinawa and surrounding areas Sunday, injuring four people and cutting off power to about 57,000 households.




Weather officials had warned that Typhoon Bolaven would be the strongest to hit the region in several years, but its gusts weren't as powerful as feared. Disaster authorities reported no major damage as of early Monday aside from the blackouts.

The center of slow-moving storm, the 15th of the season, passed over the island late Sunday and was expected to move northwest into the East China Sea on Monday, possibly affecting coastal areas of South Korea by Tuesday, weather officials said.

The Japan Meteorological Agency said wind speeds near the center of the typhoon were about 180 kilometers per hour (112 mph), with gusts reaching 252 kph (155 mph), possibly equaling or surpassing past records for the area. Public broadcaster NHK had warned that such strong winds could overturn cars and knock over telephone poles.

But NHK reported that the gusts measured on the island of Amami, north of Okinawa, reached just 140 kph (87 mph).

"The winds weren't as strong as expected. We're glad there's no major damage so far," said Yoshimitsu Matsusaki, an official with the Okinawa government's disaster prevention and crisis management division.

Authorities also scaled back the amount of rainfall expected over the most intense 24 hours to about 350 millimeters (14 inches) from 500 millimeters (20 inches) earlier.

About 43,000 households on Amami island were without electricity, and 14,000 households on Okinawa also lost power, NHK reported. Video footage from Naha, the prefectural capital, showed trees thrashed by the high winds and driving rain in largely empty streets.

On Amami island, some 2,450 households were ordered to evacuate to public shelters.

Okinawa disaster authorities said four people were hurt.

All domestic and international flights in and out of Naha Airport were canceled.

More than half of the 50,000 U.S. troops based in Japan are stationed in Okinawa. At Kadena Air Base, one of the biggest bases on the island, all shops and service facilities were ordered closed and movement around the base was to be kept to a minimum. All entry into the ocean was prohibited.

Bolaven comes on the heels of Typhoon Tembin, which soaked southern Taiwan on Friday, largely sparing populated areas before blowing out to sea again.