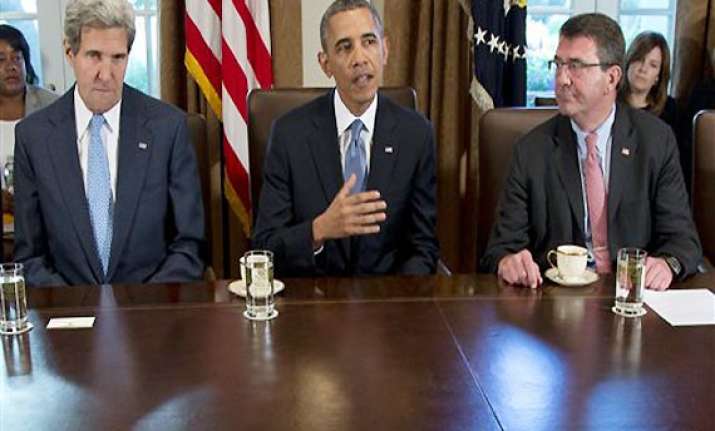 Washington: The US government today shutdown for the first time in nearly 18 years after the Republicans and Democrats failed to agree on a new budget, a crisis that has forced 800,000 federal workers off the job and could cost the world's largest economy about USD 1 billion a week.
The Republicans and Democrats failed to strike a deal on spending and budget due to differences over 'Obamacare', the signature healthcare programme of President Barack Obama.
About 800,000 federal workers in the US were told to stay at home while national parks, museums, government buildings and services shutdown as a result of the deadlock in the Congress.
With neither side blinking, despite last minute hectic efforts from both sides, the White House immediately ordered the federal government agencies to begin shutting down, furloughing thousands of workers and curtailing some services for the first time since 1995-96.
"Congress has not fulfilled its responsibility. It has failed to pass a budget and, as a result, much of our government must now shut down until Congress funds it again," Obama said in a video message to the armed services shortly after the shutdown came into effect.
"The threats to our national security have not changed, and we need you to be ready for any contingency. Ongoing military operations, like our efforts in Afghanistan, will continue. If you're serving in harm's way, we're going to make sure you have what you need to succeed in your missions," he said.
"Congress has passed, and I am signing into law, legislation to make sure you get your paychecks on time. And we'll continue working to address any impact this shutdown has on you and your families," Obama said.
Later on, the Democratic party-led Senate voted to reject the latest House Republican effort to negotiate on the budget.
The party-line vote was 54-46. The Senate turned down the House request to name negotiators to a conference to resolve the deadlock.
Majority Leader Harry Reid said he would not negotiate as long as Republicans were holding up the spending bill to keep the government operating.
The Patient Protection and Affordable Care Act, the actual name of the Obamacare law, requires all Americans to have health insurance.
Opponents say it will hurt employers and amounts to overreach by the federal government. Some have also criticized the medical device tax that's part of the law, saying that by imposing such a tax, it is basically sending jobs overseas.