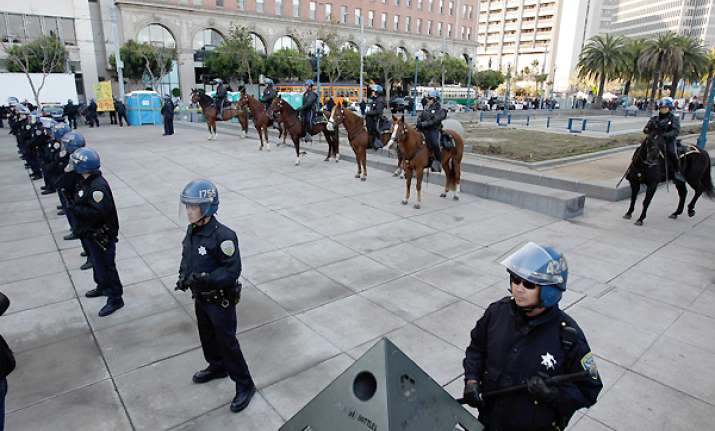 San Francisco, Dec 8: Police gave protesters at San Francisco's Occupy encampment five minutes to gather belongings before taking down about 100 tents and arresting at least 85 people as officers dismantled the camp in an overnight raid.

About two dozen officers in riot gear remained at daybreak Wednesday, down from more than 100 who carried out the raid. They blocked access to the former camp site as trash crews raked up paper and plastic bottles and removed chairs and other belongings that had accumulated there over the past two months.

A handful of protesters stood by, occasionally jeering at officers but otherwise heeding their instructions to stay back.

The movement against economic disparity and perceived corporate greed began with Occupy Wall Street in New York almost three months ago, and police have removed Occupy demonstrators there and in a number of other cities.

In some cases, police used pepper spray and tear gas to get protesters to leave the camps, which many cities declared health hazards and accused of interfering with local businesses.

Also Wednesday, police said 11 Occupy protesters were arrested in Washington after several dozen protesters lay down in the center of a busy downtown intersection on K Street, home to many lobbying firms.

The San Francisco raid began around 1 a.m., when dozens of police cars, fire engines and ambulances surrounded the campsite at Justin Herman Plaza and blocked off the area. City officials previously declared the site a public health nuisance.

Police didn't immediately say how many people were in the plaza at the time, but campers put the estimate at 150.

"Most of the protesters went peacefully," but one officer received minor injuries when two people threw a chair that cracked his face shield, said officer Albie Esparza. They were arrested on suspicion of felony assault. Dozens of others were arrested for illegal lodging in the plaza and failure to disperse.

Esparza said about 15 people arrested on charges ranging from resisting arrest to assault with a deadly weapon were still in custody.

Jack Martin of San Francisco said he was trying to leave the plaza when he was zip-tied, taken to a police station, cited and released. Officers trashed his tent and personal belongings, he said.

Richard Kriedler with Occupy SF said some protesters were injured, but he didn't have the details.

"This is a very emotional town. We have anarchists, we have very emotional people that this is not going to go over well with, and this could have been handled a lot better," he said.

In a statement, San Francisco Mayor Ed Lee said the city had taken a "measured and balanced approach," including making an alternate site available to protesters. That site—an abandoned school—included a parking lot where the protesters could maintain their encampment, a classroom for meetings, and two bathrooms.

The city had taken out a six-month lease on the property and offered to send city trucks to help the occupiers move to the new location. It had given the protesters until Dec. 1 to leave the plaza.