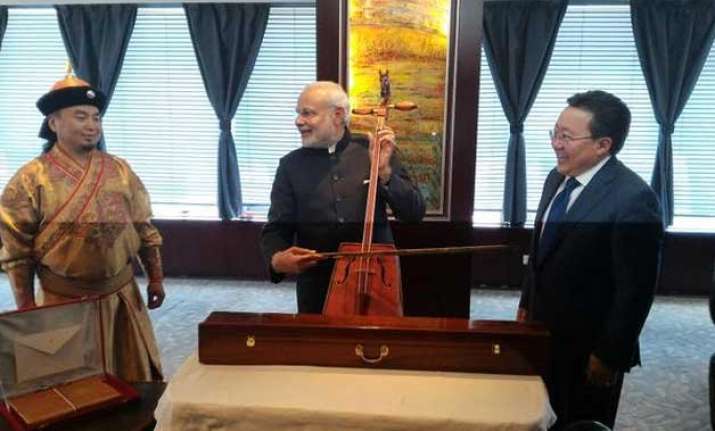 Ulan Bator: Prime Minister Narendra Modi on Sunday tried his hand at the morin khuur, a traditional two-stringed fiddle, that was gifted to him by Mongolian President Tsakhiagiin Elbegdorj.
With President Elbegdorj standing by him, Modi smilingly played the horse head fiddle for half a minute.
"The morin khuur, music and Mongolia...a unique gift from President @elbegdorj," Modi tweeted.
Earlier, external affairs ministry spokesperson Vikas Swarup tweeted: "Striking a new chord in the relationship with Mongolia. @narendramodi tries 2 understand intricacies of morin khuur."
The morin khuur is adorned with a carved horse head, and is considered a symbol of the Mongolian nation.
It has figured prominently in Mongolia's nomad culture and is one of the most important musical instruments of the Mongol people.
The design of the morin khuur is closely linked to the all-important cult of the horse in Mongolia.
The soundboard is covered with animal skin, and the strings and bow are made of horsehair.
Earlier in the day, Elbegdorj hosted Modi to lunch at the State Palace.