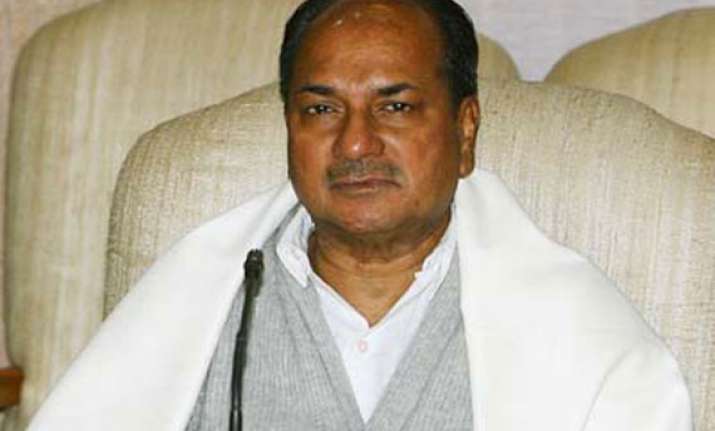 Singapore, Jun 2: With the strategic South China Sea almost near a flashpoint, India today said maritime freedom cannot be exclusive prerogative of a few and "passage at sea should be preserved to ensure access for all".
"...In an era of globalisation and interdependence, the balance between the rights of States and the freedoms of the larger global community is vital for international trade and global security," Defence Minister A K Antony said in apparent reference to Chinese buildup in the area.
 "India has always championed and advocated adherence to the international regime which governs maritime freedoms, even while asserting our national sovereignty where it is applicable," he said in his speech at the annual Security Forum in Singapore, where developments in the South China Sea were in sharp focus.
 His reference to buildup in the region came as the US Defence Secretary Leon Panetta announced at the conference that Washington is moving the majority of its warships into Asia-Pacific region in the coming years. 
Panetta said under the new military strategy US would keep six aircraft carriers in the region as he acknowledged differences between the world's two largest economies on a range of issues, including South China Sea. 
Speaking on Indian perspective on "Protecting Maritime Freedoms", Antony said, "Maritime security issues have become a strategic priority for us, especially from the aspect of trade, commerce, hydrocarbon resources, terrorism, piracy and drug trafficking."
The South China Sea is vital with about 90 per cent of the global trade moving by sea through the teeming shipping lanes in the Indian ocean and Strait of Malacca.  "There are two different aspects to this imperative," Antony said.
"The first is the concern for safeguarding our territories and our adjacent waters against seaborne threats and the second is the desire to ensure that the traditional freedoms at sea are preserved to ensure access for all."