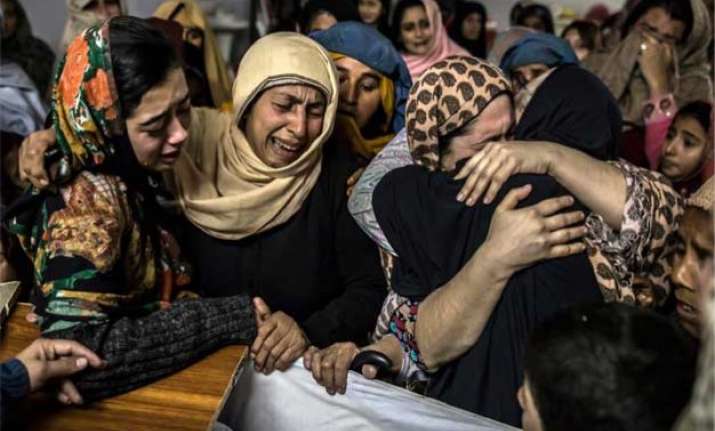 Snakes in your backyard won't bite only neighbours.
Pakistan is reaping what it had started sowing around a decade back. The country today is suffering from disastrous results following the rise of terror outfits, who still considered it as a safe heaven.
With repeated act of terror in the country of xxx bn, the life and peace of citizens are torn apart. However, there is one specific layer of people indirectly benefiting from the situation and they are – 'coffin sellers'.
A coffin seller might not be praying for tragic deaths of denizens, but increasing death toll have resulted in boom in their business, which in general is stagnant.
Since the time Pakistan became the shelter ground for militants after the US invasion of Afghanistan in 2004, more than 50,000 people have been killed in gun, bomb and suicide attacks according to Pakistani government.
Human deaths at such large scale have contributed to the growth of coffin industry, especially Peshawar's coffin-sellers who are struggling to keep up with demand.
"I used to sell two to three coffins in the early days of the business," said Jehanzeb Khan, a 60-year-old coffin-seller who began making coffins in the 1980s.
At present, Khan sells around 15 coffins a day, despite having competition from around 40 other vendors in this city of 4.5 million.
Ironically, Khan needs to keep a reserve stock of 80 coffins in case of major terror attacks in the country. His shop delivered 60 orders after December 16 Taliban massacre at a military-run school in Peshawar which killed 150 people.
As laid down in Islamic teachings, burial must take place as soon as possible, preferably by sunset the same day of the death.
Another coffin-seller, Shehryar Khan says he needs to keep staff on duty at all hours, owing to uncertainty of the people's need.
"I sleep in the shop in night, the ambulance drivers know this, and whenever somebody needs a coffin they drive straight to our shop," his salesman Niaz Ali Shah told a news agency.
"We share others' grief. They come to us crying. We sell them coffins and it reminds us that we also have to die. This life is temporary," said Shah.
For information, coffins are not part of traditional Islamic death rites in Pakistan; instead corpses are generally bound in a funeral shroud and laid upon a rope-cord bed at the time of burial.
But, in case of death in terror attacks, where victims' bodies are often in pieces, there is no choice but to assemble the remains in a 'coffin'.
An ordinary coffin model costs $30, while deluxe units cost around $100.
Al Khidmat trust, an Islamic charity in Pakistan provides coffins to the poor and unknown victims of attacks, for a respectable burial of their loved ones.
Charity's vice president Khalid Waqas, says that not all of the coffin vendors are as scrupulous and make money from other's misery.
"There are businessmen who increase prices of coffins in emergencies whenever there is a big attack in the city."  "Some people get unjustified profits, even in the most tragic of times,"said Waqas.
Such immense boost in death toll and coffin sales are a tell-e-tale of Pakistan's continuously devastating conditions. With terrorism taking deadly shape by each passing day, the worth of human life is decreasing in Pakistan, the country which is currently focusing on war with India and not on eradicating internal terrorism.