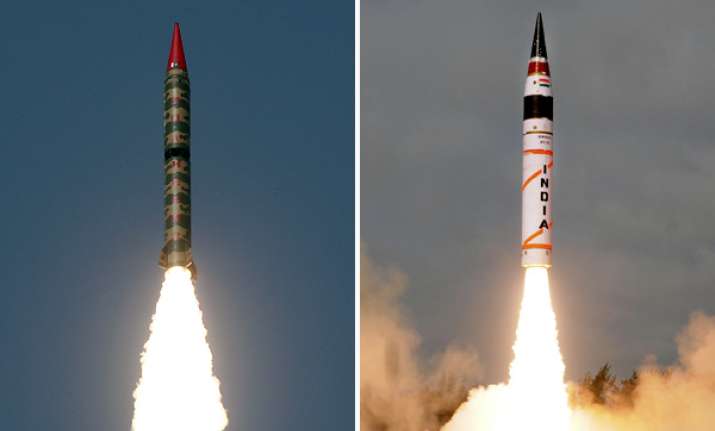 New Delhi, June 5: Pakistan presently possesses  90 to 110 nuclear warheads compared to India's 80 to 100 n-warheads, says a report by SIPRI (Stockholm International Peace Research Institute).
The SIPRI Yearbook, 2012, says, India and Pakistan are increasing the size and sophistication of their nuclear arsenals.
"Both countries are developing and deploying new types of nuclear-capable superiority in conventional arms and manpower.
"Pakistan's development of new short-range ballistic missiles suggests that its military planning has evolved to include contingencies for the use of 'battlefield nuclear weapons'. This may lead to nuclear warheads being deployed on a more launch-ready posture".
Globally, the report says, eight countries presently possess approximately 4,400 operational nuclear weapons, nearly 2000 of which are kept in a state of high operational alert.
"If all nuclear warheads are counted, the USA, Russia, UK, France, China, India, Pakistan and Israel together possess a total of approximately 19,000 nuclear weapons", says the SIPRI yearbook.
Russia has largest number of warheads (10,000) out of which 1,800 are deployed warheads and 8,200 are other warheads, while the USA has 8,000 warheads out of which 2,150 are deployed warheads and 5,850 are other warheads.
France has 300 warheads, while China has 240 warheads. Israel has upto 80 nuclear warheads, while the report says it has no estimate for North Korea's nuclear warheads.
"China appears to be expanding the size of its nuclear forces, albeit slowly", says the yearbook.
"Israel continues to maintain its long-standing policy of nuclear opacity, neither officially confirming nor denying that it possesses nuclear weapons. However, it is widely believed to have produced plutonium for a nuclear weapon arsenal.
"Israel may have produced non-strategic nuclear weapons, including artillery shells and atomic demolition munitions, but this has never been confirmed."