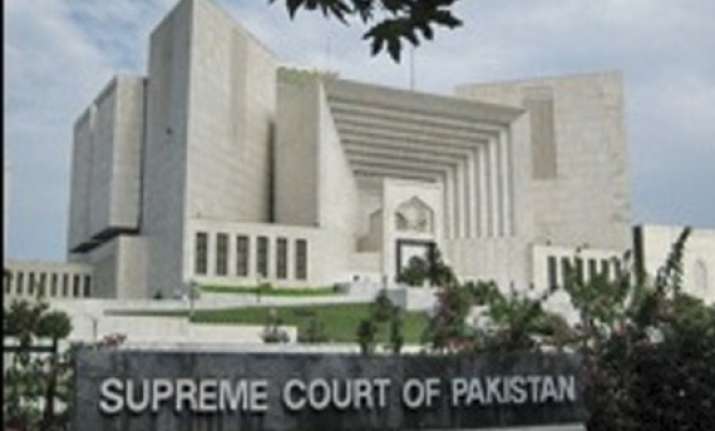 Islamabad, Jun 14: Pakistan's Supreme Court today witnessed heated exchange of words between a bench headed by Chief Justice Iftikhar Chaudhry and the Attorney General besides a group of lawyers and the situation became so hot that security had to be called in.
The heated exchange came as a bench led by Chaudhry took up a batch of petitions challenging the Speaker's decision not to disqualify the Prime Minister Yousuf Raza Gilani after his conviction of contempt.
During the proceedings, Attorney General Irfan Qadir expressed lack of confidence in the three-judge bench and said the Chief Justice should not hear the matter.  When the Chief Justice asked a petitioner's lawyer how long he would take to present his arguments, Qadir questioned why the bench was in a rush to hear the case.  
As the Attorney General repeatedly interrupted the Chief Justice while he was speaking, the bench asked Qadir not to misbehave.
On hearing the heated exchanges, a group of lawyers entered the courtroom and criticised the Attorney General.  Qadir and the lawyers had a heated exchange. Qadir repeatedly said that the judges who heard the case against the premier had fled the courtroom after convicting Gilani.  
The Attorney General reportedly made a "vulgar gesture" that provoked some lawyers and security personnel were called in to control the situation.
The Chief Justice remarked that everyone had the right to speak in the courtroom but decorum should be maintained.
Aitzaz Ahsan, the premier's lawyer, sought time to present his arguments, following which the bench adjourned the case till tomorrow.
The apex court was hearing several petitions challenging National Assembly Speaker Fehmida Mirza's ruling that she did not intend to initiate disqualification proceedings against Prime Minister Gilani following his conviction of contempt.  
Gilani was convicted in April and given a symbolic sentence of less than a minute for refusing to act on the apex court's order to revive graft cases in Switzerland against President Asif Ali Zardari.
The Supreme Court has been pressuring the government to reopen the cases since 2009, when it annulled a graft amnesty that was issued by former military ruler Pervez Musharraf.  The government has refused to act, saying the President enjoys immunity from prosecution in Pakistan and abroad.  
On June 6, the apex court had issued notices to Prime Minister Gilani, the Attorney General, the Speaker, the Election Commission and the government in response to the petitions challenging the Speaker's ruling.  
The petitions were filed by the PML-N, Pakistan Tehrik-e-Insaf, lawyer Azhar Chaudhry and several others.  The lawyers for the petitioners have contended that the premier was automatically disqualified after his conviction and that the Speaker had no authority to rule against the court's order.