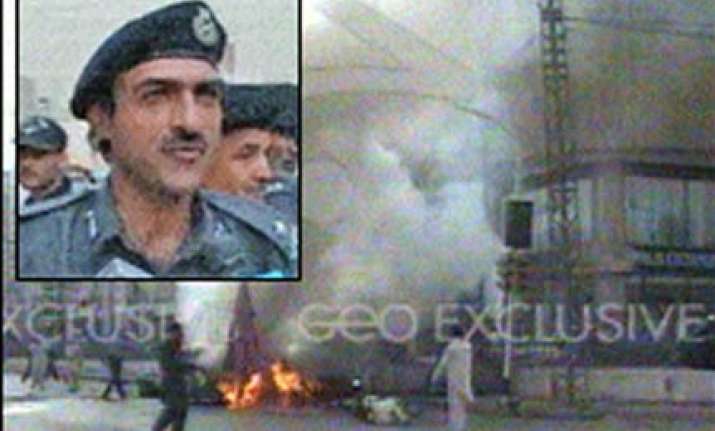 PESHAWAR: A suicide bomber killed Commandant Frontier Constabulary Siffwat Ghayur and at least four FC personnel in Peshawar's Saddar area on Wednesday, Geo News reported.
According to sources the suicide bomber hit the vehicle of FC Commandant when he was leaving the office for home.
FC Cantonment, confirming the death of Siffwat Ghayur, said that four guards accompanying him were also killed in the attack.
The powerful blast injured 9 people including 3 policemen who have been shifted to Lady Reading Hospital.
The suicide bomber's head has been found off Deens Center, usually a crowded commercial area where the blast occurred. Other vehicles present around the FC Chief's were also damaged. Gunshots were also heard immediately after the blast.Heavy contingents of police and FC personnel reached the blast site and sealed the area for collecting evidence.
Siffwat Ghayur, considered to be an honest and valiant police officer, served as CCPO Peshawar before assuming the office of FC Commandant. The deceased, who also remained a Commandant of Police Academy for three years, played a significant role in maintenance of peace in Peshawar.
Senior Provincial Minister Bashir Bilour also reached the blast site and told the reporters that the blast was a suicide attack. He said the suicide bomber was in a taxi that struck the FC vehicle.He said the terrorists are going berserk because they have failed to achieve their goals.