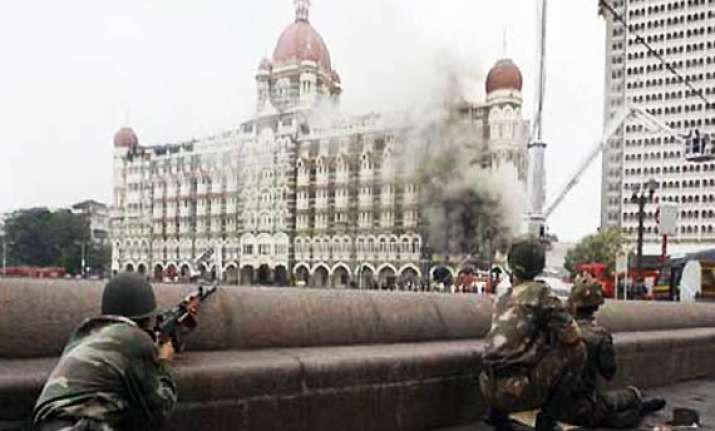 Islamabad, Nov 29: The Pakistani anti-terrorism court conducting the trial of seven suspects charged with involvement in the Mumbai attacks today admitted an application filed by the prosecution regarding a judicial commission's visit to India to interview key officials and witnesses.

Prosecution lawyers submitted the application along with a letter from the Indian government clearing the Pakistani judicial commission's visit during proceedings held behind closed doors at Adiala Jail in Rawalpindi, sources told PTI. 

Anti-terrorism court judge Shahid Rafique also admitted another application filed by lawyers defending the seven suspects seeking certain documents and clarifications regarding the judicial commission's proposed visit to India. 

He then adjourned the case till December 3, when the defence lawyers are expected to respond to the prosecution's application.

The sources said the defence lawyers were undecided on the issue of joining the judicial commission for the proposed visit to India to interview Ajmal Kasab, the lone surviving attacker, and key officials who investigated the 2008 Mumbai attacks that killed 166 people.

Some of the defence lawyers had said earlier this year that they would not participate in the visit. 

Muhammad Azhar Chaudhry, one of the Pakistan government's prosecutors, is expected to head the Federal Investigation Agency team that will be part of the commission. 

A judicial officer in Mumbai will be nominated to help record the statements of prosecution witnesses or those imprisoned in India.

Official sources in New Delhi said everything was "on track" on the Indian side for the proposed visit of the Pakistani commission.

"On this side, things are moving in the right direction," a source told PTI.

Kasab, who has been sentenced to death by a special court in Mumbai, is currently being held in a high-security jail.  The Pakistani commission is expected to interview magistrate R V Sawant Waghule and police officer Ramesh Mahale, who play key roles in the probe into the Mumbai incident.

It is also expected to interview doctors who conducted the autopsies of the terrorists and victims. 

Despite several dossiers provided by India on the Mumbai attacks, Pakistan's Interior Minister Rehman Malik has claimed that further evidence is needed to take action against Jamaat-ud-Dawah chief Hafiz Muhammad Saeed, blamed by New Delhi for masterminding the attacks.

The trial of the seven Pakistani suspects, including Lashkar-e-Taiba operations commander Zakiur Rehman Lakhvi, has been stalled for many months due to various technical reasons and numerous petitions filed by the defence lawyers.  Only a handful of over 160 prosecution witnesses have testified so far.