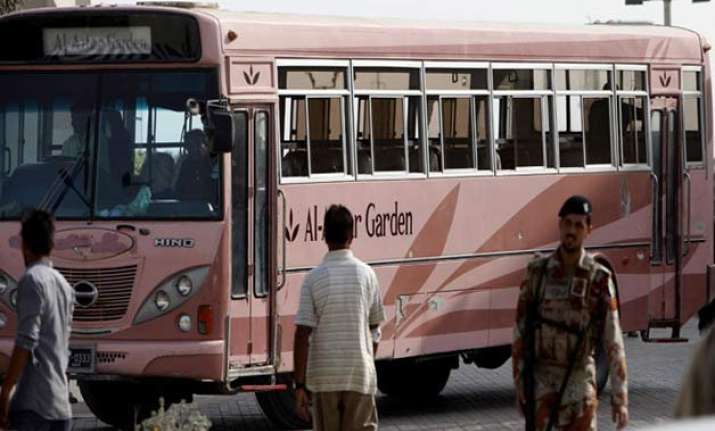 Islamabad: Four persons were today arrested for their alleged involvement in the killing of 45 Shia Ismaili Muslims who were gunned down by IS militants in a  bus attack in Pakistan's volatile Karachi city last week.  
The Chief Minister of Sindh, Qaim Ali Shah, said that four accused have been arrested.
The office of Prime Minister Nawaz Sharif also confirmed it in a statement.
"Prime Minister Nawaz Sharif talked to CM Sindh on phone and appreciated the law enforcement agencies, especially police, on arresting four persons responsible for Safoora Chaurangi incident," it said.
Kalashnikov-wielding IS militants donning police uniforms gunned down 45 Shia Ismaili Muslims, shooting them in the head as they attacked their bus in Pakistan's volatile Karachi city The bus was carrying over 60 people from the group when the militants barged into it near Safoora Chaurangi on May 13.  
The attackers killed 45 people - 26 men and 17 women - and wounded over 20 others before fleeing from the scene, police said.
A blood-stained pamphlet of terrorist group Islamic State was recovered from the scene, according to a police official.  Later, the Islamic State group claimed responsibility for the grisly attack and said they gunned down 43 people.  It was the first official claim of responsibility by the IS leadership of an attack in the Afghanistan-Pakistan region.
The passenger bus run by a welfare service of the Ismaili community was taking men, women and children to the city centre for jobs and schooling from a low cost housing society when six unidentified men on three motorcycles stopped the bus after firing on it and then entered into the bus and shot dead 45 passengers.
Sharif also said the arrest of plotters of this heinous crime in such a short time proves that Karachi operation is going in the right direction and that law enforcement agencies have the capability of handling such challenging tasks.  
Karachi with population of over 18 million is facing violence by militants and criminals and government had launched an operation to create peace.