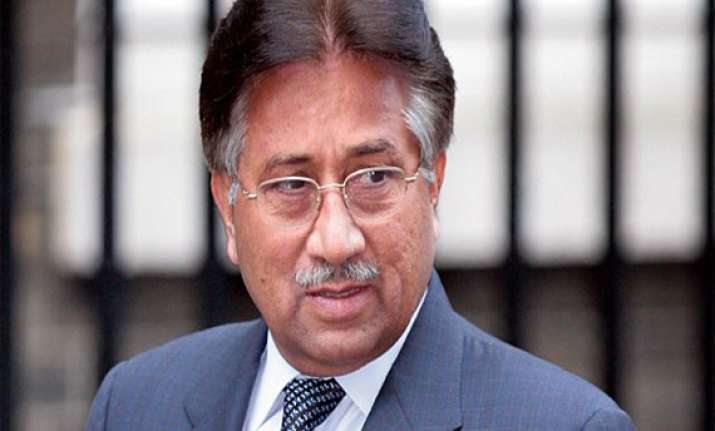 Islamabad, Mar 5: Pakistan's Interior Ministry has written to France-based Interpol for a Red Corner Notice against former President Pervez Musharraf for his arrest and extradition to the country, Interior Minister Rehman Malik said on Sunday .

"We have sent a request to Interpol for the arrest of Pervez Musharraf," Malik told journalists during an interaction at the National Press Club. He gave no other details.

The request was sent to Interpol through its representative in Pakistan, the Dawn newspaper quoted its sources as saying.

Federal Investigation Agency senior prosecutor Chaudhry Zulfiqar Ali said a letter had earlier been sent to the director of Interpol (Pakistan) by the officer leading the investigation into

former premier Benazir Bhutto's killing.  The formal request stated that Musharraf is an accused in the case.

The investigating officer handed over to the Interpol director in Pakistan investigation reports, copies of statements by then director-general of ISI's counter-intelligence wing Javed Iqbal

Cheema and former Intelligence Bureau director general Ejaz Shah, US-based journalist Marc Siegel's email to Bhutto and copies of orders issued by an anti-terrorism court.

The letter sent by email to Interpol Pakistan on February 2 stated: "Secretary General of Interpol Secretariat Lyon (France) is requested to issue 'red warrants' for Pervez Musharraf,

former president of Pakistan, and arrest him through Interpol.

A copy of red notice may please be furnished to this ministry."The email mentioned the computerised national identity card number of Musharraf.

In minor cases, countries generally take a lenient view even after the issuance of Red Corner Notices and avoid extraditing the accused, prosecutor Ali said.  However, in cases related to

terrorism and murder, governments assist each other, he said. 

Since Bhutto's assassination case was registered under section 302 of the Pakistan Penal Code (related to murder) and sections of the Anti-Terrorism Act related to serious offences of

terrorism, Pakistan is expecting an "immediate and positive response" to the request for arresting Musharraf, the report said.

But Ahmer Bilal Sufi, an expert in international law, said a Red Corner Notice was not a replacement for extradition arrangements.

"It is only an intimation of 'wanted man' of a country to other countries," he said.

Since there is no extradition treaty between Pakistan and Britain, the latter is not legally bound to extradite Musharraf even if Interpol issues the Red Corner Notice for him, Sufi said.

Bhutto was assassinated on December 27, 2007 while leaving an election rally in Rawalpindi.  Musharraf, who has lived in self-exile in London and Dubai since early 2009, has delayed plans

to return to Pakistan after officials warned he would be arrested on arrival.

Pakistani courts have issued warrants for his arrest over the 2006 death of Baloch nationalist leader Akbar Bugti, and the assassination of Bhutto.