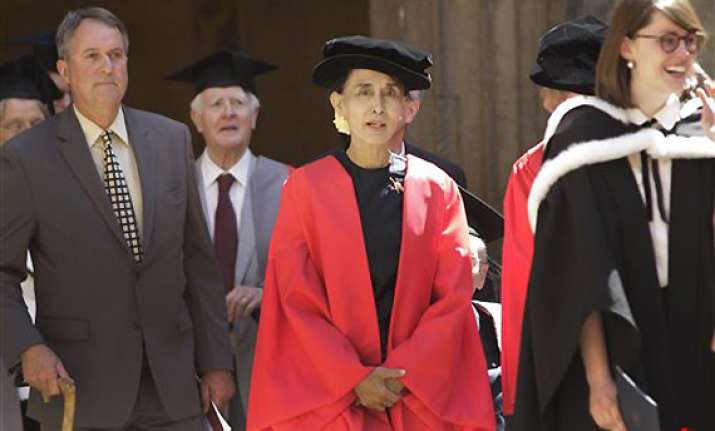 London, Jun 20: Paying fulsome tributes, the University of Oxford today honoured Myanmar's democracy icon Aung San Suu Kyi by presenting her with an honorary doctorate in Civil Law in a traditional ceremony telecast live. 
Conducted in Latin, the ceremony called Encaenia honoured eight distinguished individuals, including Suu Kyi, who was described by the Chancellor as "star shining in the east, the light of her countrymen".
The oration for Suu Kyi, 67, in Latin hailed her achievements and welcomed her back to Oxford where she studied, married and lived for several years, before returning to Myanmar to care for her ailing mother in 1988, never to return, until yesterday.
The oration said: "There is little need of words; for today the line of honorands is led by one whose presence among us speaks more eloquently than any language. We honour her with trumpets, procession and applause, but all this magnificence would mean nothing were it not the outward expression of the hope and admiration deep within us".  
"This we say to her: 'Of necessity, your return here is a public event, observed by many eyes, but we do not forget that you are also coming back to your old home and to a city full of memories".
"Here you studied and formed friendships, here you knew the delights of youth, here as a wife and mother you lived a quiet domestic life, until your love of country and passion for the cause of freedom summoned you back; but you were forced to leave behind a beloved husband and children, so that your return to your native land was made into a kind of exile".
Admitting her to the honorary degree of Doctor of Civil Law, the chancellor described her as "unbowed champion of liberty, who have given your people and the whole world an example of courage and endurance".
Suu Kyi smiled as she received the degree while hundreds applauded.