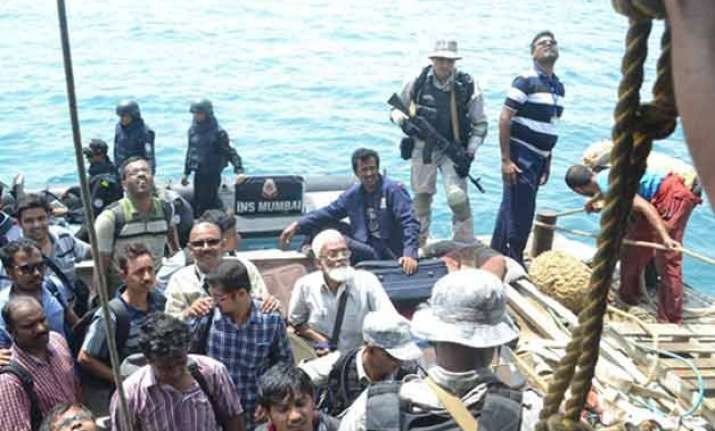 'Operation Raahat', that was the name given to the evacuation of Indian citizens from war-torn Yemen. Bombings, shelling, firing leading to destruction in all quarters of oil-rich country, but only one Indian causality and 5600 rescued.
The effectiveness of the operation was extraordinary; the leadership of an Army General-turned-diplomat has a lot to with it. General V K Singh, Minister of State in Ministry of External Affairs supervised the whole operation and lead from the ground.
When India announced the conclusion of its Yemen evacuation operation, this was the final tally:
Total evacuated- 5600
Indians among evacuees- 4640
Foreign National among evacuees-960
Countries whose nationals were rescued- 41
Total causality- 1
Among the rescued, there was a baby as old as 6 days. There were women, children and people as old as in their 90s. Though, these people are back to their homes (most of them jobless) what about the million others who are still in the gallows and can't leave because it is their home.
A country of more than 23 million, torn between four power centres, Yemen looks nothing like it used to. Dating back to ancient Mesopotamia, Yemen has a beautiful culture and a worth of proud past.
The power struggle in Yemen lies mainly between two main sects of Islam, Shia and Sunni. Iran being the leader of former and Saudia Arabia of the later. On world stage, Iran has full support of Russia and Saudia Arabia backed up by USA.
As Yemen is extremely strategic in Arabian Peninsula, both the parties want to place their dominance over it.  
Although, the crisis in Yemen dates back to several years, the recent one aroused after President Abd Rabbuh Mansur Hadi resigned on January 22 and the Houthi rebels seized the power and placed him under house arrest.
The main fight is between Zaidi Shias also called as Houthi rebels and the forces loyal to president Hadi. Hadi, who escaped Sanaa to Aden and then Saudi capital Riyadh is being supported by Saudi forces and its allies. Saudi allied forces have launched a number of air-strikes on Houthi rebels but have not deployed its forces on ground.
Houthi rebels take their name from Hussein Badreddin al-Houthi, who launched an insurgency in 2004 and was reportedly killed by Yemeni forces in September 2004. Even the Yemeni forces are divided with some supporting Houthi and some still loyal to Hadi. It is widely known that Iran has provided with weapons and essential to the Houthis, the government has categorically denied it.
The picture gets further complicated as both Hadi and Houthi forces are opposed by Al-Qaeda in the Arabian Peninsula (AQAP), which has launched a number of deadly attacks from its strongholds in the south and south-east of the country.
The fourth player in the scene is Islamic State, who has expanded itself into Yemen too, beyond its Syrian and Iraqi occupancy. ISIS opposes all other forces in the region and wants to be the single force in the region.
Between all these fights, more than 540 people have been killed and some 1,700 others wounded by the violence in Yemen since 19 March (as per World Health Organisation data).
A WHO report says that at least 74 children are known to have been killed and 44 children maimed so far in this war. UNICEF said that the data is "conservative" as it believes that the total number of children killed is much higher.