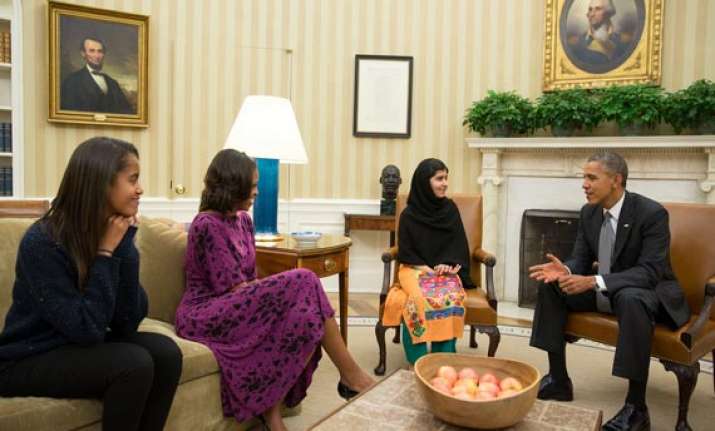 Washington : The Obamas welcomed Yousafzai Malala to the Oval Office "to thank her for her inspiring and passionate work on behalf of girls education in Pakistan.
The White  House issued a statement on Friday saying "The United States joins with the Pakistani people and so many around the world to celebrate Malala's courage and her determination to promote the right of all girls to attend school and realize their dreams." 
Malala was a nominee for this year's Nobel Peace Prize. She is an activist advocating girls' education in Pakistan . She was shot in the head and neck by Taliban gunmen on her way home from the school Oct 9, 2012, in her home town of Mingora, Khyber Pakhtunkhwa province. 
She survived the assassination and recovered from her wounds later in a hospital in Britain. Her story has sparked national and international outpouring of support. 
After meeting Obamas Malala said that she was honored to meet Obama and that she raised concerns with him about the administration's use of drones, saying they are "fueling terrorism." 
She said, "I thanked President Obama for the United States' work in supporting education in Pakistan and Afghanistan and for Syrian refugees".