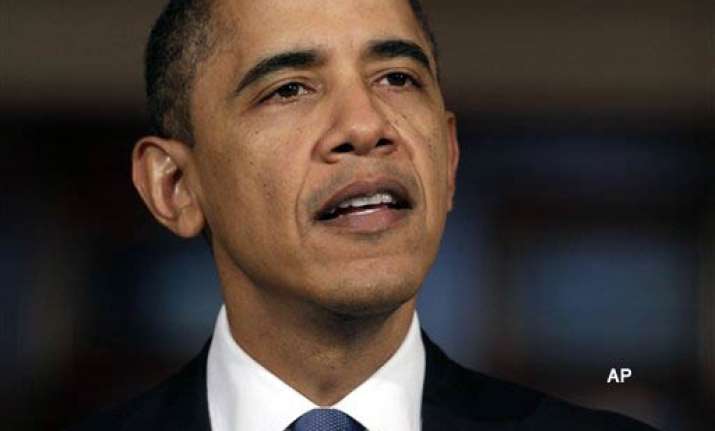 Washington, Feb 24 : US President Barack Obama told the world to unite to hold Libya accountable for a vicious protest crackdown, stiffening a US response to the crisis that critics had cast as too mild. In his first televised response yesterday to Libyan leader Moamer Kadhafi's decision to unleash vengeance on demonstrators, Obama reached out to US allies and promised to deploy a "full range of options" to halt "outrageous" bloodshed.
Obama spoke as officials said that Washington was considering fresh sanctions and other steps against Libya, and as political pressure mounted on his administration for a more activist response. The administration's careful previous line on violence that a former Libyan minister said had killed 1,000 people,appeared to be dictated by fears that American diplomats and citizens in Libya could face reprisals.
But by late yesterday, a US-chartered ferry with a capacity of 575 passengers was riding out bad weather in Tripoli harbour before casting off on an evacuation mission to Malta. "The suffering and bloodshed is outrageous, and it is unacceptable," Obama said at the White House."So are threats and orders to shoot peaceful protesters and further punish the people of Libya. These actions violate international norms, and every standard of common decency. This violence must stop."
Obama defended his administration against claims that its response to the violence, the latest wave of unrest crashing across the Middle East, had been too tempered.
"Over the last few days my national security team has been working around the clock to monitor the situation there and to coordinate with our international partners about a way forward," he said.
But the president did not mention Libya's ruthless and unpredictable leader Kadhafi, who has ruled for decades and frequently defied the United States, by name. Seeking to corral international action on Libya, Obama said that in such a volatile situation, it was "imperative" for nations to speak with one voice.
He said he would dispatch Secretary of State Hillary Clinton to a ministerial-level meeting in Geneva on Monday of the UN Human Rights Council.
"Like all governments, the Libyan government has a responsibility to refrain from violence, to allow humanitarian assistance to reach those in need and to respect the rights of its people," Obama said. "It must be held accountable for its failure to meet those responsibilities and face the cost of continued violations of human rights." (AFP)