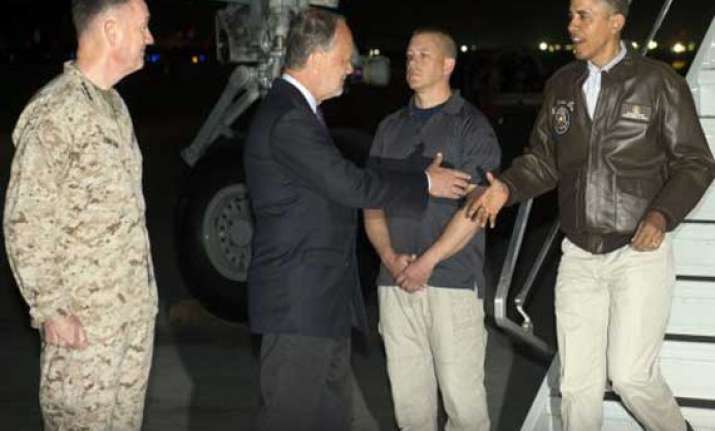 Bagram Air Field (Afghanistan): President Barack Obama secretly slipped into Afghanistan under the cover of darkness today for a weekend visit with US troops serving in the closing months of America's longest war.  Air Force One landed at Bagram Air Field, the main US base in Afghanistan, after an overnight flight from Washington.
Obama was scheduled to spend just a few hours on the base and had no plans to travel to Kabul, the capital, to meet with Hamid Karzai, the mercurial president who has had a tumultuous relationship with the White House.
Obama's surprise trip comes as the US and NATO withdraw most of their forces ahead of a year-end deadline. Obama is seeking to keep a small number of US troops in Afghanistan beyond 2014 to train Afghan security forces and conduct counterterrorism missions.
But that plan is contingent on Karzai's successor signing a bilateral security agreement that Karzai has refused to authorise.
Obama's visit also was taking place against the backdrop of growing outrage in the United States over the treatment of America's war veterans.
More than two dozen veterans' hospitals across America are under investigation over allegations of treatment delays and deaths, putting greater scrutiny on the Department of Veterans Affairs.