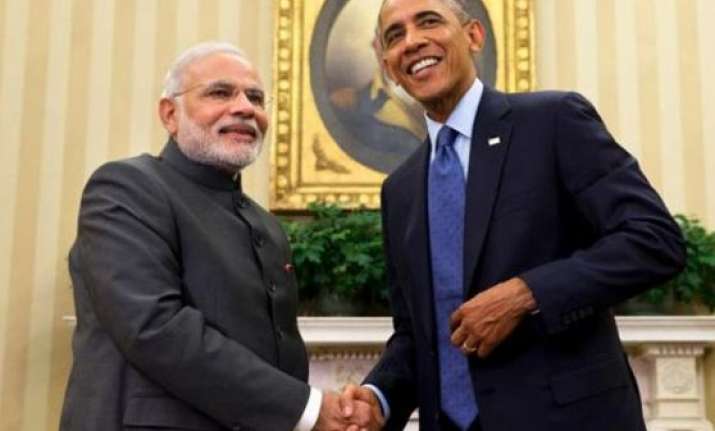 Washington: Meeting between US President Barack Obama and Prime Minister Narendra Modi reflects the 'depth of strong relationship' between the two democracies of the world and their leaders, the White House has said.
Modi wounded up his five-day-long visit on Wednesday and returned home 'thanking America' and saying, 'it was a successful and satisfactory' trip.
"It reflects the depth of the strong relationship between the United States and India that the two leaders were able to come together and discuss a broad array of topics," White House Press Secretary Josh Earnest, told reporters.
Each of those topics represents an area of important cooperation between the two countries, he said, adding, Obama 'certainly values' the opportunity.
"It was the first opportunity that the two men had had to meet in person," he said.
"I know the President enjoyed the visit with Prime Minister Modi to the Martin Luther King Junior Memorial. And I'm confident that as the relationship between our countries progresses, so will those areas of cooperation," Earnest said.
The series of agreements reached between the two countries are indicative of the wide range of areas where the US and India have a strong, cooperative partnership.
"The President certainly values that aspect of the relationship between our two countries," he said.
"I also think that the Indian people saw some important images. They saw the President of the United States and the Prime Minister of India sitting down, side by side in the Oval Office, discussing shared interests and priorities between our two countries," he added.
"The people of India also saw the President travel with Prime Minister Modi to the Martin Luther King Junior Memorial on the National Mall, and I think that sends a pretty clear signal about the shared values of our two countries and our two democracies. It also demonstrates a shared commitment to the success of our two democracies," Earnest said.
"The President really enjoyed the visit and I think it's indicative of the kind of strong partnership that exists between the two leaders and between our two countries," he said.