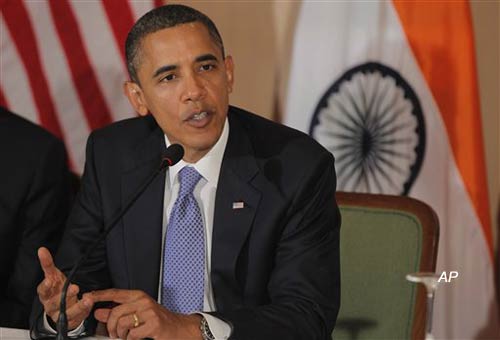 JAIPUR, Nov 7:  U.S. President Barack Obama had the first taste of technological advancement of a nondescript Indian village when he interacted with inhabitants of Kanpura village in Ajmer district of Rajasthan through video-conferencing using optical fibre cable (OFC) technology from Mumbai on Sunday morning.  
Located 40 km away from Ajmer, Kanpura in Srinagar Panchayati Samiti is one of ten villages in the district connected with OFC technology as part of a pilot project facilitated by the Union Ministry of Information Technology. It also falls under the Lok Sabha constituency of Union Minister of State for Communication and IT
Sachin Pilot
.
The IT-enabled village was selected in view of its successful operation of an advanced system that has provided the rural populace access to health, development and education-related information and ensures a transparent functioning of the Mahatma Gandhi National Rural Employment Guarantee Scheme.
The U.S. President had a "real time feel" of the village ambience from St. Xavier's College in Mumbai in his interaction with Sarpanch Jagdish Bairwa and village elders as the cameras were installed to show the panchayat office decorated with traditional handicrafts and images as well as the rural landscape.
Ajmer Collector Rajesh Yadav said preparations for the event had been going on since a month  and the National Informatics Centre's software experts gave the final touch."I do hope Mr. Obama will feel good after talking to villagers. The OFC provides first-rate connectivity with which video-conferencing can  be done", he added.
A delegation comprising senior officers of U.S. administration and representatives of industry had visited Kanpura in September to witness the role of e-governance in improving the quality of life of its population of 4,500.
Villagers watched the interaction in a panchayat room live at the giant screens installed at the local chaupal and the market. A team from the U.S. Embassy in New Delhi and technical experts along with an interpreter was stationed at the venue of the first-ever direct dialogue between Obama and residents of the village.
Even though Obama will not be touching down Rajasthan during his three-day visit to India, he was the second U.S. President to get a glimpse of a village in Rajasthan to experience the state of affairs at its grassroots. Former President Bill Clinton had gone to Naila village near Jaipur to experience rural India as part of his 2000 visit.
For Obama, who has often expressed concern over the U.S. firms outsourcing their operations, the transformation of a remote Indian village through e-governance that has made an impact at the grassroots came as a pleasant surprise. A solar energy projects is also in the pipeline at Kanpura to make the village self-sufficient in energy.