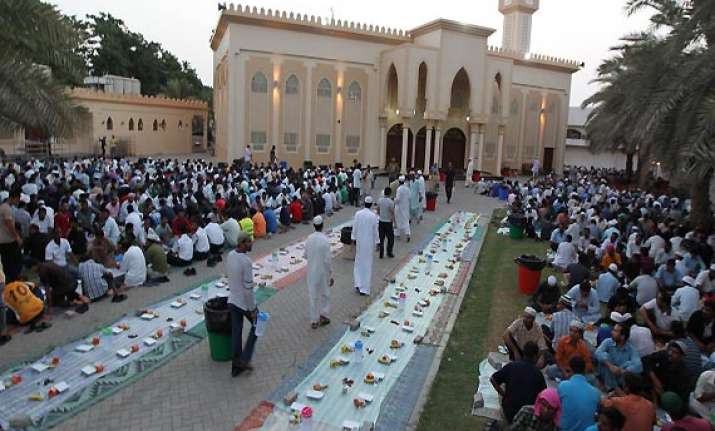 Dubai, Aug 6: Across the Muslim world, most families gather at sunset after the daylong fast during the holy month of Ramadan.
For Muslim labourers in the Gulf, though, many eat alone without their families.
In a car park in Dubai, a group of Muslim labourers from India - separated from their homeland like millions of other workers across the Gulf - join for a game of cricket and to swap stories late into the evening.
The scene is recreated in countless ways in Dubai and other fast-growing Gulf cities where Muslim workers, mainly from South Asia, mark Ramadan in ways that reflect the bonds of their migrant communities.
However, it also underscores the stinging realities of the 21st century Gulf boomtowns, where unskilled workers can make less than 300 US dollars a month.
"These poor people they leave their countries like India, Pakistan, Bangladesh, they come here," said Haji Nasser, a volunteer that provides charity meals for the evening meal, known as iftar.
"And, you know, everyone is thinking about their family. They come and work here for the money, and they send their money back for their family," he adds.
Ramadan is traditionally a time of reflection and prayer, and Muslims are expected to abstain during daylight hours from food, drink, smoking and sex to focus on spirituality, good deeds and charity.
The fast presents a physical and spiritual challenge every year, but particularly when the holiday falls during harsh Middle East summer - when the days are longest and temperatures soar in some places to 50 degrees Celsius.
In the Dubai district of Al Quoz, the site of brief labour protests in 2007, hundreds of labourers rush to the mosque every night to break their fast during Ramadan.
Volunteers gathers hours beforehand preparing thousands of meals provided for free by charities and local businesses.
Although a few relief agencies provide help to labourers throughout the year, the Ramadan initiatives are for many a rare interaction with Dubai's labour camps, which are often set in industrial areas and desert outskirts in sight of the city's luxury high rises.
Officials in the United Arab Emirates have improved labour camp conditions in recent years after facing pressures from rights groups and others.
Last year, some artists and activists raised concerns about labour conditions at high-profile projects in Abu Dhabi including branches of the Louvre and Guggenheim museums.
Abu Dhabi officials deny any shortcomings in the working or living conditions.
Zuwakas Al Monem, a mosque volunteer, says most of the labourers can't afford or do not have time to make the iftar meal.