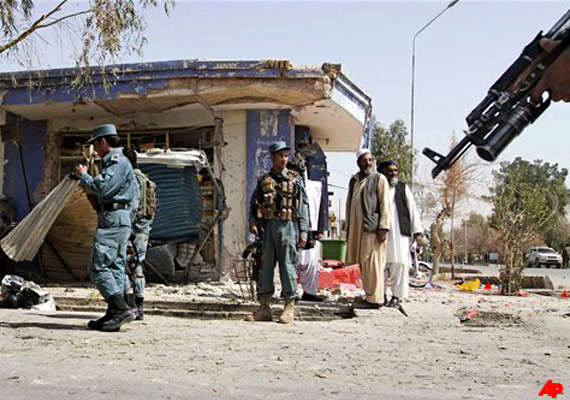 Kabul, Mar 25: Seven Afghan policemen and a NATO soldier were among nine people killed when Taliban militants targeted them with an IED device in Kandahar province in southern Afghanistan, officials said today.  
Eight Afghans and one foreign soldier were killed in an Improvised Explosive Device (IED) explosion when the Afghan and foreign forces were on a foot patrol in Arghandab district in southern Kandahar province yesterday, officials said.  

"Seven Afghan security forces, one Afghan translator and one NATO soldier were killed while they were on a foot patrol in the area," said Shah Mohammad Arghandab district administrator chief in Kandahar province.  

Three of the seven Afghan security forces were Afghan National police, four of them were local police from the district, added Mohammad.

He also said another local police was wounded due to the blast. He has been moved to a nearby hospital for treatment.

On the other hand, International Security Assistance Force (ISAF) this morning issued a press release and confirmed that one of their service members died following an IED attack in southern Afghanistan yesterday.

According to the ISAF policy, no details have been given on the identification of the dead NATO soldier.