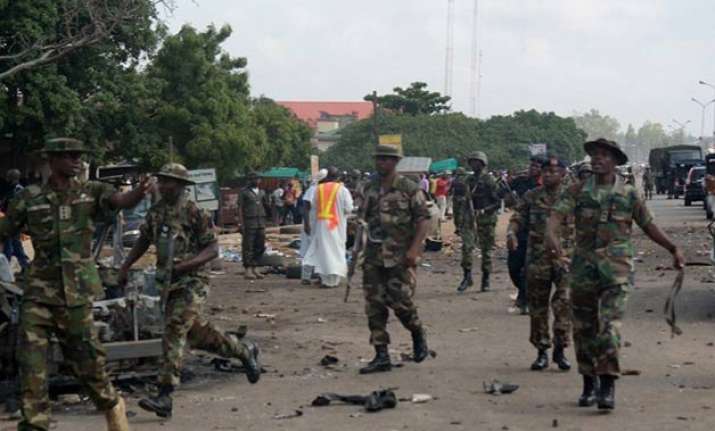 Gwoza: Nigeria's military officials boast that they have ousted Boko Haram extremists from all major towns and forest camps in a large area of northern Nigeria, but Associated Press journalists have seen evidence that the organisation still has the power to carry out brutal attacks on civilians.
Each day brings new reports of atrocities, with mass graves being discovered in towns seized back from the militants, who had set up a so-called "Islamic caliphate" across a great swathe of northeast Nigeria.
Just this week, survivors described how the insurgents arrived in a village and told people they had come to preach to them about Islam. When villagers had gathered in front of the mosque, the extremists sprayed gunfire into the crowd. When some ran away into the mosque, they set it ablaze, burning alive some of their victims.
Major General Chris Olukolade, spokesman for the Nigerian Ministry of Defence, showed a group of journalists an open-air graveyard of civilians apparently slaughtered by Boko Haram in Gwoza, a newly "liberated" city.
A young man conscripted by Boko Haram showed reporters the stump from his amputated right hand, chopped off with a machete under the harsh form of sharia law imposed by the insurgents. They accused him of stealing fuel, a charge he denies.
"I told them I am a mechanic, and they said since you are a mechanic you will work for us," said Hassan Usman, speaking in the local Hausa language. "When I told them I could not work for them, they said they would kill me."
Boko Haram was little known outside West Africa until they abducted nearly 300 girls from a boarding school in the town of Chibok a year ago. Dozens managed to escape but 219 remain missing.
Their plight, and the failure of Nigeria's government and military to rescue them, attracted international outrage.
Nigerians showed their displeasure by booting President Goodluck Jonathan out of office in a historic election on March 28 that marks the first time in the country's history that an opposition politician has ousted an incumbent.
President-elect Muhammadu Buhari, who takes office on May 29, is a former military dictator who says he has converted to democracy. Many Nigerians hope his military background will help in his campaign pledge to stamp out Boko Haram.
With the help of soldiers from neighbours Chad, Cameroon and Niger, Boko Haram has been ousted in a matter of weeks from towns held for months.
Many voters asked why the military was unable to act before to curb the nearly 6-year-old Islamic uprising that has killed thousands - a reported 10,000 just last year - and forced more than 1.5 million from their homes.
Olukolade said the armed forces have been boosted by a recent acquisition of weapons that reports say include helicopter gunships.
There have been allegations that both Nigerian and Chadian forces have abused civilians in the latest offensive.
Nigeria's military has denied charges that its soldiers have killed thousands of innocent civilians, and illegally detained many more, in retaliatory attacks on villages accused of harbouring the insurgents.
Olukolade insisted: "We are aware that we are operating in our country.?we must be very careful of the level of collateral damage that we can visit on the country."