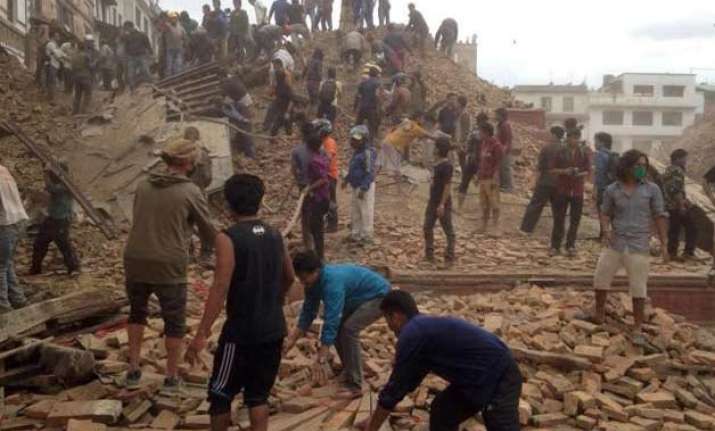 Kathmandu: Nepal's devastating earthquake that has claimed nearly 7,300 lives so far is likely to hit the 10 billion-rupee tourism industry - the country's main forex earner - hard, losing as many as two lakh international tourists, including many Indians, in the immediate future.
However, many foreign visitors have chosen to stay back in the devastated Himalayan nation and are extending a helping hand to the victims - with some volunteering to assist in medical camps or preparing food for them.
"The overwhelming hospitality of Nepalis compelled me to stay back to assist them," Israeli tourist Shir Sharlo told PTI.
The 22-year-old, who was in Pokhara when the earthquake struck, rushed to her country's embassy here, where she came to know about an emergency medical camp set up by Israel following which she began giving assistance to the victims.
Another tourist from Israel, Hadar Tzadok said it was her responsibility to help the needy in the time of crisis.  "When I am healthy, fit and fine, it is my responsibility to help those in need," she emphasised.
The emergency medical facility equipped with 125 medical staff has treated about 200 victims.  Tourism sector has taken a beating in Nepal, with industry sources fearing cancellation of over two lakh international visitors in the next four months.
According to Chairman of the Nepal Chapter of Pacific Asia Travel Association Suman Pandey, there might be an over 75 per cent reduction in the 2.75 lakh visitors expected in Nepal till August this year due to the nature's fury.
"We are losing many tourists, particularly from India, as several monuments that attracted them have been affected in the earthquake. Indians account for about 20 per cent of international visitors to Nepal, who usually tour our country during summer," he said.
The Himalayan nation attracts tourists from China, Europe, North America and Australia, besides India, he added.
"The road connecting Kathmandu with the Chinese border has been closed," Pandey said, adding that the country's only international airport could be used to ferry emergency material for now.