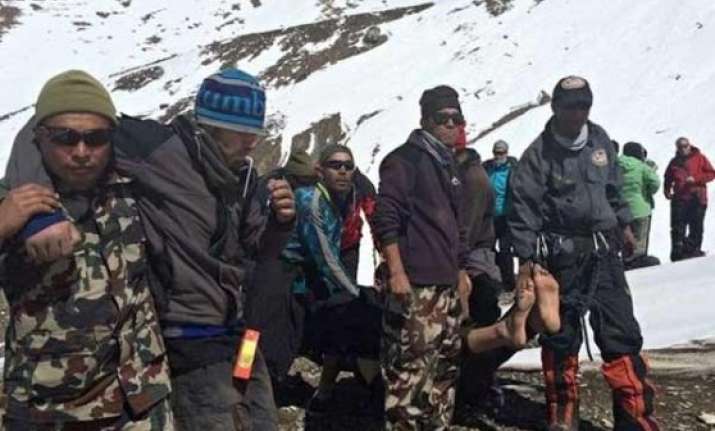 Kathmandu: Nepal on Monday wrapped up week-long rescue operations in the Himalayas after rescuing about 300 people stranded in one of the worst snowstorms that killed 40 hikers, including four Indians.
So far 32 dead bodies, including those belonging to 17 Nepali supporting staff, have been recovered from Mustang, Manang and Annapurna Circuit in the North-West Himalaya, according to an official at TAAN (Trekking Agencies Association of Nepal).
Eight people, including two Nepalese, are presumed dead as their bodies could not be recovered even a week after the deadly incident.
West Regional Administrator Dinesh Kumar Thapaliya said the authorities wrapped up the operations as they collected all dead bodies and rescued stranded trekkers.
"Since there is no any information that no any trekker is left for rescue, the government withdrew rescue teams," he said.
"But the teams are kept standby for any operation whenever needed," Himalayan Times quoted Kumar as saying.
The search and rescue works carried out by Nepal Army and Nepal Police personnel with the help of local trekking guides have so far rescued 406 people from the incident sites, he said.
Some 300 foreigners were among those rescued by the authorities by mobilising four helicopters.
The rescue operations were wrapped up today as there was no chances of survival, said the TAAN official.
A joint meeting involving officials from ministries of Home, Defence and Tourism along with officials of TAAN is being called for tomorrow at Nepal Tourism Department's office to review the rescue works and to recommend measures to be taken in the Himalayas in future disasters, the official said.
There were some 5-6 feet snow cover in the Nepal Himalayas, as an impact of storm Hududh in south India.
October- November is regarded as the best season for hiking in Nepal Himalayas and the blizzards are uncommon during this season.