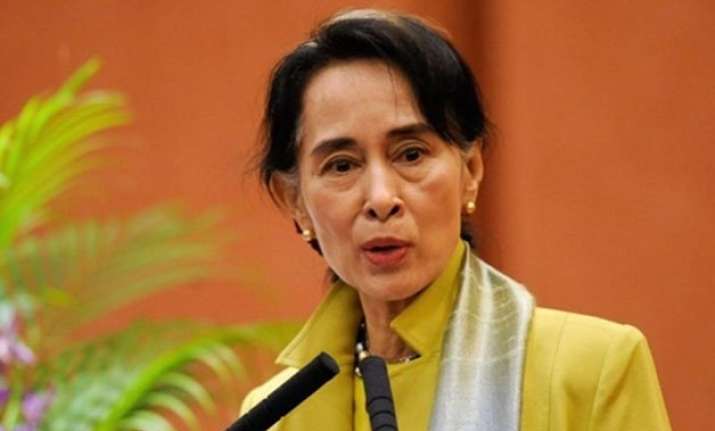 New Delhi: Confident of winning next month's historic parliamentary polls, Nobel laureate Aung San Suu Kyi has said it will decide Myanmar's "future", and hoped India will play a major role in the country's quest for democracy.
Suu Kyi said she will try to have "good" ties with both New Delhi and Beijing, if voted to power.
The 70-year-old Myanmar Opposition leader said a raft of reforms including bringing the powerful military under civilian government, ensuring independence of judiciary, reconciliation among ethnic groups, besides opening up of the economy will be initiated if her National League for Democracy forms the government.
In the midst of electioneering, the iconic leader, who led the struggle against military rule for close to three decades, underlined India's possible role in transformation of the country but disapproved of the secrecy surrounding a military operation by Indian armed forces along the Indo-Myanmar border in June.
Asked whether Indian forces will be allowed to carry out such operations inside Myanmar's territory, if her party forms government, Suu Kyi said she was not aware of the existing policy but added if such operations were allowed it will be done with transparency and not "silently and surreptitiously".
Suu Kyi, who had spent around 15 years under house arrest between 1989 and 2010, said she was saddened when India, the largest democracy in the world, was "turning back" on democracy to maintain good ties with military government but added "changes" are taking place in the right direction and that the historic frienship between the two neighbours will continue."
The past is just for us to take lessons from and not for us to mull over it and get angry and resentful," she said, adding she found Prime Minister Narendra Modi wants to help Myanmar in its democratic transition.
She said the November 8 election will be turning point in Myanmar's history and that there was a need for an effective monitoring of the process as there was a question mark whether the military will allow it to be free and fair.
"It is an election which will change the whole future of our country, of the generations to come. So we say to the people you are not voting just for yourself but for children and grand children and great grand children. This is the most important election in the history of independent Burma," she told a leading TV channel.
Suu Kyi said the chairman of the Election Commission last month had said he would take responsibility for correctness of 30 per cent of electorate in the voters' list and called upon everybody including the international community to keenly monitor the polls.
Suu Kyi, daughter of Myanmar's independence hero General Aung San, said she will head the government if the National League for Democracy gets the required majority and indicated that the constitutional provision barring her from the country's top job of President will be done away with."
I have made it quite clear that if the NLD wins the elections and we form a government, I am going to be the leader of that government whether or not I am the President," she said.
Asked whether she will follow Sonia Gandhi, she said "No, not like that", indicating the Constitution will be amended so she can occupy the top post.
Suu Kyi said the military will have a dignified role and that the Constitution will have to change to allow the civilian authorities to have necessary power over the military. "So many changes are needed to ensure that we move forward," she said.
On Indian military carrying out an operation along the Indo-Myanmar border against Naga insurgents, she said "I will want more transparency on the subject."
"If we as neighbours are to establish peace along our borders and genuine understanding between the two countries, there has to be transparency. It is the lack of transparency that creates all kinds of speculations and suspicions," she said.
On certain insurgent groups from the North-East taking shelter in Myanmar, she called it as a "big problem" for both the countries."
They are people from the same ethnic group. The fact that they crossed over the border when there was problem on one side is to be expected. I think what we need to establish is peace. You have to work to come to a peaceful settlement for Nagas and we have to work for a peaceful solutions with those who are on our border," she said.
Recalling her meeting with Prime Minister Narendra Modi when he visited the country last year, Suu Kyi said he had got the impression that he would like to help in the progress of democracy in Myanmar and that he had tremendous good will towards the country.
"He came across as a rather reserved person…But he was not reserved to the point of being difficult. He was rather nice actually," she said. Asked whether she found him shy, Suu Kyi said, "I do not know whether shy is the word."
Asked whether India and China are becoming rivals to become friends with Myanmar, she said her country can help both the countries bridge their differences. She said Myanmar would like to have good ties with both the countries."
We will always be ready as a friend to bring two friends together," she said, adding she found Chinese President Xi Jinping a leader who was "easy to talk to". Asked whether he was affable and easy to get along, she said "yes".
On whether Xi does not have the reserve Modi has, Suu Kyi said, "No. It is a different sort of reserve. All leaders of big countries tend to have a bit of reserve. Modi's reserve is not in any way a barrier."
Asked was there any possibility of the powerful military nullifying the poll results if her party emerges victorious, like it had done in 1990, she said such chances are remote as political landscape in the country has changed and people now are ready to stand up for democracy.
She also referred to a recent comment by General Min Aung Hlaing, who had said he would welcome the prospect of a female president. "I am not saying that this is an absolute gurantee but I doubt very much that things which happened in 1990 will happen again."
Suu Kyi said she was confident of reaching the target of winning at least 67 per cent of the seats required to capture power. Asked whether her chances of win would have increased if she had forged alliance with ethnic parties, she replied in the negative, contending her party has huge support base in almost all ethnic states.
Talking about various reform imitatives she has envisaged, Suu Kyi said she intends to liberalize the economy and attract foreign investment, besides ensuring ease of doing business.
It is a daunting challenge ruling the country. I hope it brings out the best in me, she said, adding she would like to see herself as a pragmatic politician. "I am prepared to lead the country."
Asked about the problem of Rohingiyas, Suu Kyi said a humane approach was needed to address the issue.
"I cannot condemn the Rakhine (state). I do not want to alight more flames. I am for reconciliation among them. Our people must learn to live within the framework of constitution, compassion. It will be one of the big challenges we will face," she said.
Suu Kyi also expressed concern over "worrying signs of religious intolerance" in Myanmar.She said even if her party wins 100 per cent seats, she will reach out to all the ethnic groups as part of the national reconciliation.