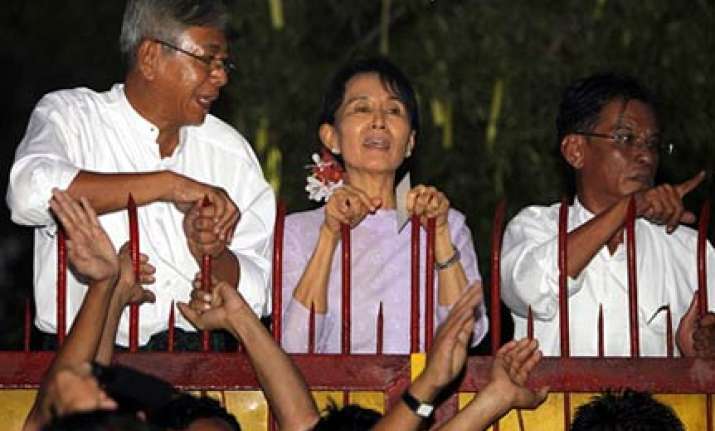 Military authorities in Burma have released the pro-democracy leader Aung San Suu Kyi after she spent 15 of the last 21 years under house arrest.
It had been expected that she would be released but the ruling military junta - which looks to have secured the majority of seats in Burma's first election for 20 years - is thought to have limited Ms Suu Kyi's travel privileges, reports Daily Mail, London.
Suu Kyi, a Nobel laureate, was finally released to crowds of  her cheering supporters at her party's headquarters on Saturday morning.
More than 1,000 people, among them many journalists, waited near her lakeside house, many chanting 'Release Aung San Suu Kyi' and 'Long live Aung San Suu Kyi'.
Some wore T-shirts emblazoned with messages pledging to stand with her.
As the crowd swelled, about 30 riot police armed with guns and tear gas ordered Suu Kyi's increasingly vocal and anxious supporters to move back from the barricades.
Military chiefs finally removed heavy barbed wire barricades that had been in place around the 65-year-old's secure compound ready for her to be freed.
A smiling Suu Kyi, wearing a traditional jacket and a flower in her hair, appeared at the gate of her compound as the crowd chanted, cheered and sang the national anthem.
'There is a time to be quiet and a time to talk. People must work in unison. Only then can we achieve our goal. We have a lot of things to do,' Ms Suu Kyi told supporters at the gates of her lakeside compound.
Ms Suu Kyi, who has two grown up sons, spoke  briefly in Burmese as she thanked the well-wishers, who quickly swelled to as many as 5,000, and said they would see each other again Sunday at the headquarters of her political party.
She then retreated back inside her home for the first meeting with her National League for Democracy party in seven years.
Ms Suu Kyi's party colleagues and democracy campaigners around the world welcomed news of her release - but called for Burma's 2,200 other political prisoners to be freed.
Prime Minister David Cameron said her imprisonment was 'a travesty' and her release was long overdue.
He added: 'Aung San Suu Kyi is an inspiration for all of us who believe in freedom of speech, democracy and human rights.'
U.S. President Barack Obama said that he welcomed the release of Myanmar pro- democracy leader Aung San Suu Kyi.
'She is a hero of mine and a source of inspiration for all who work to advance basic human rights in Burma and around the world. The United States welcomes her long overdue release," the president said in a statement.'
Former Prime Minister Gordon Brown said: 'There will be joy round the world at the release of Aung San Suu Kyi, the world's most renowned and courageous prisoner of conscience.
'Her release proves that no injustice can last forever, and while Burma's junta can continue its policy of repression it has never been able to wholly silence her voice.
'Despite enduring two decades of separation, her family has displayed great strength which has proved an inspiration to us all.'
Foreign Secretary William Hague said: 'Daw Aung San Suu Kyi's arbitrary detention for most of the last 20 years has been deeply unjust.
'Her fortitude in the face of this outrage has been inspirational. I welcome news of her release.'
The pro-democracy leader is thought to have secured her release by signing a strict release order drawn up by the ruling military chiefs.
She had been due for release last year but was convicted for violating the terms of her previous detention by briefly sheltering an American man who swam uninvited across a lake to her home.
A government official says a release order was read by authorities to Ms Suu Kyi after her latest term of detention officially expired Saturday.
If Ms Suu Kyi had refused to sign the order she may have been held for longer.
The official, who demanded anonymity because he was not authorized to speak to the media, spoke shortly after three official cars entered her compound.
'My sources tell me that the release order has been signed,' said Tin Oo, chairman of Ms Suu Kyi's National League for Democracy party.
Ms Suu Kyi's internment in jail or under house arrest has symbolised the struggle to rid Burma of decades of military rule.
'There is no law to hold (Ms Suu Kyi) for another day,' her lawyer, Nyan Win, said on Friday.
'Her detention period expires on Saturday and she will be released.'
Ms Suu Kyi's release has hinged on  on whether the Burmese military junta decides to impose conditions.
Her lawyer said the Oxford-educated leader would not accept a conditional release if this meant she would be precluded from engaging in political activity.
'[Her release] must be unconditional,' Nyan Win said. 'As we all know, she has never accepted limited release in the past.'
The democracy icon's release came after a state media announcement on Thursday that the pro-junta political party had secured a majority in both houses of Parliament in last sunday's elections.
Partial results showed the Union Solidarity and Development Party had won 190 of 219 constituencies reported in the 330-seat Lower House and 95 of 107 seats in the 168-seat Upper House.
Leading members of the ruling junta were among those who won seats, including Prime Minister Thein Sein, who also heads the USDP.
The victory is a clear sign that the military, in civilian guise, will continue to control the country for the foreseeable future.
Critics allege the Nov. 7 elections were manipulated to give the pro-military party a sweeping victory.
Results have been released piecemeal and already have given the junta-backed Union Solidarity and Development Party a majority in both houses of Parliament.
The last elections in 1990 were won overwhelmingly by Suu Kyi's National League for Democracy party, but the military refused to hand over power and instead clamped down on opponents.
Ms Suu Kyi, 65, plans to help her disbanded National League for Democracy party probe allegations of election fraud, said Win, who is also a spokesman for the party.
The junta, however, is unlikely to allow Ms Suu Kyi to play a political role in Burma now that she has been released from house arrest.
In the past she has been prevented from travelling outside of Rangoon for fear her popularity could encourage dissent against the junta.
Suu Kyi's detention began in May 2003 after her motorcade was ambushed in northern Burma by a government-backed mob.
The detention period was extended in August of this year when a court convicted her of briefly sheltering an American intruder who came to her house uninvited.
Her NLD party won the last Burmese election in 1990 but was never allowed to take power and in May this year, was disbanded after refusing to part in the November election.
Amnesty International's Secretary General, Salil Shetty, said that Ms Suu Kyi's release marked the end of an 'unfair sentence'.
India today hailed the release  and termed it as a step towards national reconciliation.
"India welcomes the release of Suu Kyi. We hope that this will be the beginning of the process of reconciliation in Myanmar," External Affairs Minister S M Krishna said hours within the release of the 65-year-old Nobel Peace Prize winne.
Krishna said the recent elections in Myanmar are an important step in the direction of the national reconciliation process being undertaken by the military government.
'We have always encouraged them to take this process forward in a broad-based and inclusive manner. In this context, as a close neighbour of Myanmar, we are confident that the release of Suu Kyi will contribute to efforts for a more inclusive approach to political change and reforms," he told reporters.