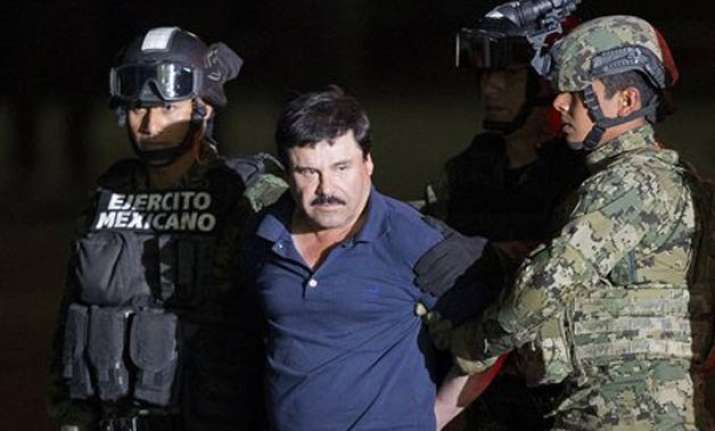 Mexico City: In a daring raid on Friday, Mexican marines recaptured the world's most-wanted drug lord, six months after he fled through a tunnel from a maximum security prison. The development deeply embarrassed the government and strained ties with the United States.
Joaquin "El Chapo" Guzman, head of the powerful Sinaloa Cartel, apparently believed that his escape was worthy of Hollywood. According to Attorney General Arely Gomez, Guzman's people were communicating with actors and producers as he wanted to film a biopic. This communication was key to authorities tracking him down to a house in an upscale neighborhood in a coastal city.
The Attorney General further said he was being sent back to the maximum-security prison known as Altiplano, from where he escaped last July 11 through an elaborate tunnel that was dug to shower stall.
Mexican President Enrique Pena Nieto announced the capture of Guzman using his Twitter account: "Mission accomplished: we have him."
No sooner than Guzman was apprehended, calls started for his immediate extradition to the U.S., including from a Republican presidential candidate, Florida Sen. Marco Rubio.
Mexican authorities said nothing about extraditing the drug boss to the United States.
Here, we bring you a timeline of the various pursuits, captures and escapes of Sinaloa cartel boss Joaquin "El Chapo" Guzman:
* June 10, 1993: Guzman's first capture, in Guatemala, announced by Mexican authorities.
* 1995: Convicted and sentenced to 20 years in prison.
* Jan 19, 2001: Escapes from one of Mexico's two top-security prisons, in Jalisco state, allegedly in a laundry cart.
* 2012: Nearly captured by Mexican federal police at a coastal mansion in Los Cabos, a day after U.S. Secretary of State Hillary Clinton met with dozens of other foreign ministers in the same resort town.
* Feb 22, 2014: Captured by Mexican marines at a condo in Mazatlan after he had escaped capture by fleeing through tunnels in Culiacan, the Sinaloa state capital.
* July 11, 2015: Escapes from country's Antiplano top-security prison in Mexico State using mile-long (1.5 kilometer) tunnel dug from site outside prison compound.
* Jan 8, 2016: Captured by Mexican marines during raid in Los Mochis, a seaside city in Sinaloa. Sent back to same prison he escaped from.
(With AP inputs)