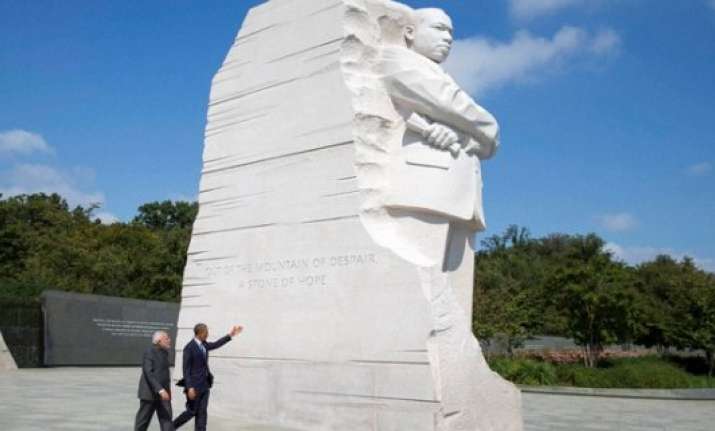 Washington: In a rare gesture, Prime Minister Narendra Modi and US President Barack Obama yesterday visited the Martin Luther King Jr. Memorial and paid a joint homage to the leader of African-American Civil Rights Movement.
In a last minute change of plan, Obama joined Modi to pay homage to the American stalwart.
Both the leaders took a round of the memorial and Obama was seen explaining significance of the site to Modi. They drove straight to the Memorial after their summit level talks at the White House.
As per initial plan, Modi was to go alone to pay the homage but in last minute change American president also decided to join him.
Martin Luther King Jr. (January 15, 1929 - April 4, 1968) was an American pastor, activist, humanitarian, and leader in the African-American Civil Rights Movement.
He is best known for his role in the advancement of civil rights using non-violent civil disobedience based on his Christian beliefs.
Incidentally, among the gifts that Modi had gifted Obama was audio-video clips from the 1959 India visit of Martin Luther King.
Officials said Modi was aware that Obama has great regard for Martin Luther King and there is a Mahatma Gandhi link between President Obama, the King and the Prime Minister, so he (Modi) had looked up and asked All India Radio to provide a recording of Martin Luther King's speech which he gave in India in 1959 when he visited the country.
In addition, there are some other memorabilia of Martin Luther King.
There is a photograph of the King at the Rajghat, which the Prime Minister has framed and given to Obama. There is a small clip which goes back to 1959.
The Photos Division was able to track back a video clip of Martin Luther King's visit to India, External Affairs Ministry spokesperson Syed Akbaruddin said