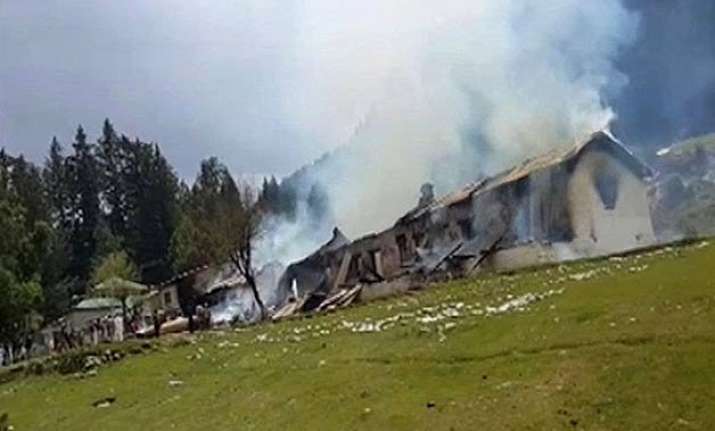 Islamabad:  Pakistan today said the military helicopter which crashed in PoK, killing seven persons including two envoys had "suddenly lost control" due to mechanical fault moments before landing, discounting claims by Taliban of having shot it down.
"The Mi-17 was fully airworthy and its behaviour was normal just prior to landing and it suddenly lost control," Air Chief Marshal Sohail Aman told state television.  
"Our base commander had eye contact with the helicopter and there was no problem in its behaviour. The helicopter lost control just moments before landing," he said, adding that a probe has been launched into the incident and there would be a detailed analysis of the crash.
Aman added that the pilots flying the helicopter were "proficient and excellent" and had made several flights in the area.
Envoys of the Philippines and Norway and the wives of the Malaysian and Indonesian ambassadors were among seven persons killed when the helicopter, carrying 12 foreigners, crashed in Pakistan-occupied Kashmir's Gilgit-Baltistan area in the north.
The chopper was ferrying 19 people, including diplomats, to Naltar where Prime Minister Nawaz Sharif was scheduled to address a ceremony but cancelled it following the mishap.  Yesterday, Foreign Secretary Aizaz Ahmad Chaudhry said that engine failure had led to the crash of the helicopter, which ploughed into an empty school building, setting it ablaze.
"The crash was due to failure of engine. The black box has been recovered and investigation started," he said at a media briefing.
The Taliban had claimed responsibility for the downing of the chopper and said premier Sharif was their target but the Army ruled out the possibility of any terrorist or subversive activity in the crash and said the chopper crashed due to a technical fault.
The helicopter was commissioned in 2002 and was regularly being serviced with the latest service done just 11 hours before the accident, Chaudhry said.
He said Islamabad-based diplomats and their wives were invited on three-day trip which was a routine travel.  Two army pilots and a Pakistani crew member were also killed in yesterday's crash moments before the helicopter was about to land.
It was part of three choppers carrying diplomats from 37 countries and the other two had landed safely.