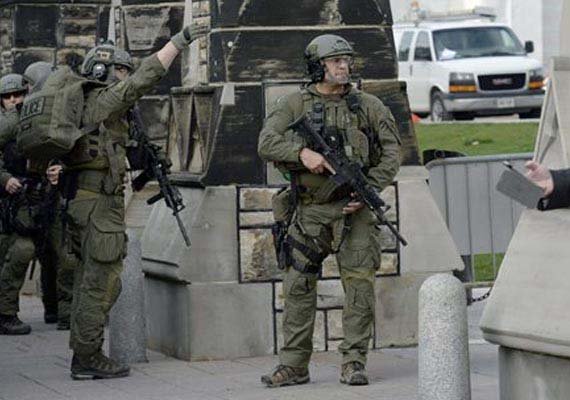 Ottawa:  Just a day after a suspected gunman killed a Canadian soldier in Ottawa and then stormed into the Parliament, a man was arrested at gunpoint just steps away from the Canadian Prime Minister Stephen Harper Thursday.
Harper and his wife were laying a wreath at the National War Memorial to commemorate the killing of the soldier there when police, shouting and with guns drawn, surrounded a man and ordered him to the ground.
Ottawa Police said the man was arrested for "disturbing the crime scene" at the war memorial. It was not immediately clear what was the man's intent.
"He crossed the tape. We told him not to. He didn't listen," said a police officer at the scene.
The tense moment, captured on camera and seen by throngs of people and politicians who had gathered at the war memorial, highlighted tensions in Ottawa a day after a man shot a soldier there and raced through Parliament before being killed himself.
Harper himself was pulled back from the crime scene after he and his wife briefly lifted the crime scene tape and attempted to lay flowers, and then reversed themselves and laid their wreath outside the crime scene.
Employees began returning to the Parliament Hill complex amid tighter security. The House of Commons was set to open on schedule at 10 a.m. (
1400 GMT), with the prime minister speaking at that time.
Tighter security was evident all over the sprawling parliamentary zone in downtown Ottawa. Armed Royal Canadian Mounted Police (RCMP) officers stood outside the door where the gunman, identified as Michael Zehaf-Bibeau, rushed in on Wednesday.
The flag flying over Parliament's Centre Block, where the gunman had burst in on Wednesday morning, was at half mast.
Members of Parliament said they would gather at the War Memorial, near the parliament, to honor Canadian soldier Nathan Cirillo who was shot at the site.
Parliament Hill and the downtown core were under lockdown for 10 hours on Wednesday as police scoured the area for more possible suspects.
"There was only one gunman," said an RCMP officer who was guarding Parliament Hill early on Thursday, checking the identity cards of workers and media going into the parliament complex.
He said in the confusion on Wednesday morning, witnesses saw things from different angles, suggesting the possibility of second shooter but videos and further interviews showed this was not the case.
 The killing of the Canadian soldier was the second this week with a possible link to Islamist militants.
 In a brief address to the nation on Wednesday night, Harper pledged to redouble the country's fight against "terrorist organizations.
 "Let there be no misunderstanding, we will not be intimidated. Canada will never be intimidated," he said.
 "This will lead us to strengthen our resolve and redouble our efforts and those of our national security agencies to take all necessary steps to identify and counter threats."