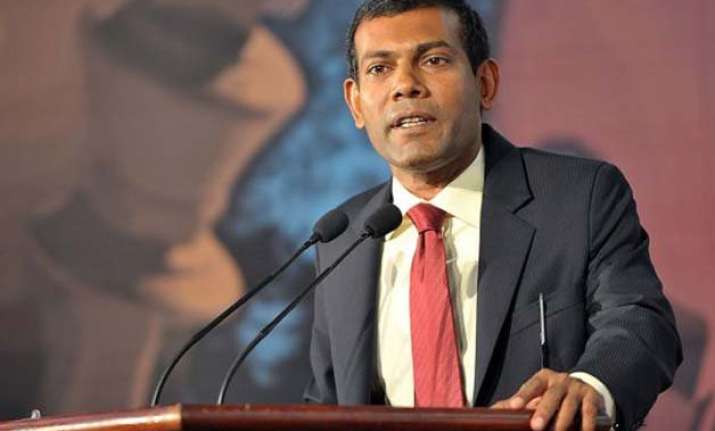 Male: Amid mounting international pressure to free convicted former president Mohammed Nasheed, Maldives yesterday made clear that it would not be taking directions from India or any other country on the issue.
"I have consistently said that India respects our sovereignty and our independence," Foreign Minister Dunya Maumoon, the daughter of former strongman Maumoon Abdul Gayoom, told reporters in Sri Lanka during an official visit here.
"While on the basis of the friendship, we can discuss concerns and have a dialogue. But I don't think India nor any other country would be giving us directions...on a particular matter," she said.
However, the Foreign Minister said Nasheed had the right to appeal.
A Maldivian court on Friday had found Nasheed guilty of charges pressed against him under anti-terrorism laws and had handed down a 13-year jail term, sparking protests from his Maldivian Democratic Party which has decided to launch a national civil disobedience campaign to free their imprisoned leader.
India, the US and the European Union have all expressed concern over 47-year-old Nasheed's imprisonment and conviction for ordering the detention of a judge in 2012 when he was president.
"A free and fair trial has happened. A verdict has come," Maumoon said.
She said that President Abdulla Yameen -- who is also her uncle -- "has asked the whole world to respect that".
The MDP has called for international pressure, particularly from India, on Yameen's government to free Nasheed.
Maumoon said that the Maldives was being unfairly judged by some counties but yet her government will engage with the international community over the issue.
"We expect support from Sri Lanka like we have supported Sri Lanka in the international fora. We are communicating with Sri Lanka. The change of government (in Sri Lanka) has not affected our relationship with Sri Lanka," she said.
Maumoon said that the alleged abduction of a chief justice by Nasheed was a serious crime and even a former president needs to be accountable for such actions.
"We will not accept double standards," Maumoon said.
Meanwhile, yesterday Nasheed suffered another blow when the former Maldivian president's appeal against his arrest order was dismissed by a court.
The High Court threw out Nasheed's appeal against his February 22 arrest as he refused to enter the courtroom for the first hearing of his appeal case in protest because his request to hold the hearing in public was rejected.