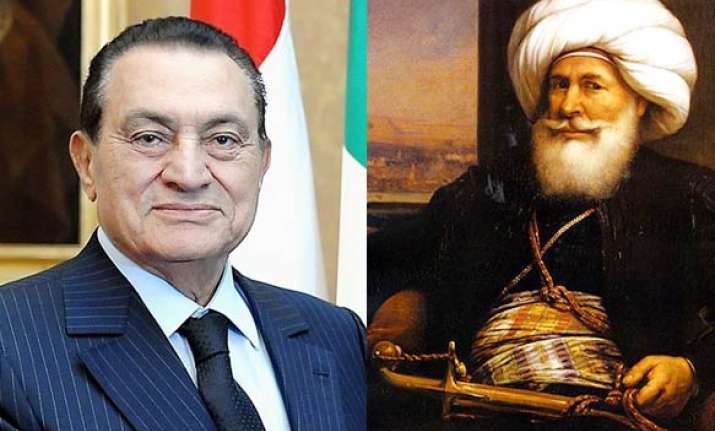 Cairo, Feb 11: Muhammad Hosni Sayyid Mubarak was appointed vice president in 1975, and assumed the Presidency on October 14, 1981, following the assassination of President Anwar El Sadat. He is the longest-serving Egyptian ruler since Muhammad Ali Pasha. Before he entered politics Mubarak was a career officer in the Egyptian Air Force, serving as its commander from 1972 to 1975.
Beginning on January 25, 2011, protesters called for his resignation as president of Egypt. On February 1, 2011, Mubarak announced that he will not seek another term in the upcoming presidential election. On February 5, 2011, Egyptian state media reported that senior members of the ruling National Democratic Party, including President Hosni Mubarak, had resigned from leadership roles within the party. However, it further clarified that Mubarak would stay on as president.
Early life and the Egyptian Air ForceMubarak was born on May 4, 1928, in Kafr-El-Meselha, Monufia Governorate, Egypt. Upon completion of high school, he joined the Egyptian Military Academy, where he received a Bachelor's degree in Military Sciences in 1949. On February 2, 1949, Mubarak left the Military Academy and joined the Air Force Academy, gaining his commission as a pilot officer on March 13, 1950 and eventually receiving a Bachelor's Degree in Aviation Sciences. Hosni Mubarak is married to Suzanne Mubarak, and has two sons: Alaa and Gamal.
As an Egyptian Air Force officer, Mubarak served in various formations and units, including two years when he served in a Spitfire fighter squadron. Some time in the 1950s, he returned to the Air Force Academy, this time as an instructor, remaining there until early 1959. From February 1959 to June 1961, Mubarak undertook further training in the Soviet Union, attending a Soviet pilot training school in Moscow and another at Kant Air Base, near Bishkek in Kyrgyzstan (then a Soviet republic), an airfield that is today home to the Russian 5th Air Army's 999th Air Base.
Mubarak undertook training on the Ilyushin Il-28 and Tupolev Tu-16 jet bomber, and then joined the Frunze Military Academy in 1964. On his return to Egypt, Mubarak served in wing and then base commander appointments, taking up command of the Cairo West Air Base in October 1966 before briefly commanding the Beni Suef Air Base.Γ] In November 1967 Mubarak became the Air Force Academy's commander and two years later he became Chief of Staff for the Egyptian Air Force.
Mubarak became Commander of the Air Force and Egyptian Deputy Minister of Defence in 1972. In the following year his military career reached its pinnacle when he was promoted to air chief marshal in recognition of service during the October War of 1973. Mubarak has been credited in some publications for Egypt's initial strong performance in the 1973 war against Israel.
ABC News reports that experts believe the personal wealth of Mubarak and his family, estimated at from US$40 billion to $70 billion, was founded on military contracts made during his time as an air force officer.
In April 1975, Mubarak was appointed by Sadat as Vice President of the Egyptian republic. In this position, he loyally served Sadat's policies. He took part in government consultations that dealt with the future disengagement of forces agreement with Israel.
As part of his support for Sadat's policies, he went in early September 1975 on a mission to Riyadh and Damascus, in order to convince the Saudi and Syrian governments to accept the disengagement agreement signed with the Israeli government ("Sinai II"), but was refused a meeting by the Syrian president.
In addition, Mubarak was sent by Sadat to numerous meetings with foreign leaders. Mubarak's political significance as Vice-President can be seen from the fact that at a conversation held on June 23, 1975 between Foreign Minister Fahmy and US Ambassador Hermann Eilts, Fahmy said to Eilts that "Mobarek [sic] is, for the time being at least, likely to be a regular participant in all sensitive meetings" and he advised the Ambassador not to antagonize Mubarak, as he was Sadat's personal choice.
Following the assassination of President Sadat in 1981 by army officers opposed to his signing of the Egypt–Israel Peace Treaty, Hosni Mubarak became the President of the Arabic Republic of Egypt, and the Chairman of the National Democratic Party (NDP). He is the longest serving President of Egypt, his term now lasting 29 years.