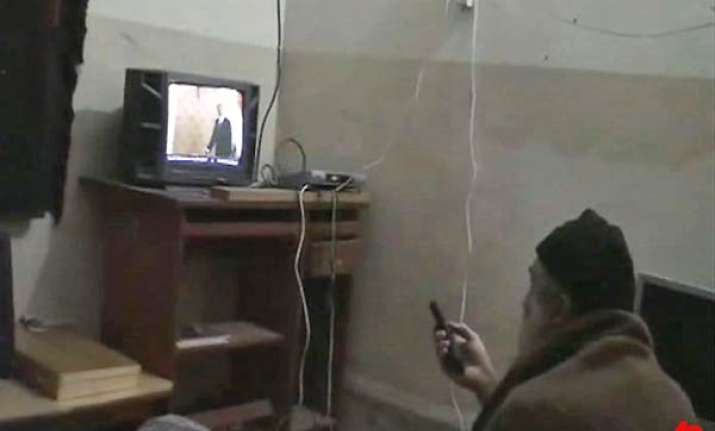 New York, May 20: Here is what Gordon Duff, Senior Editor of Veterans Today has written in his article : Was Davis the CIA Handler of "Mystery bin Laden" in Abbotabad? :
"Sources tell us that the "lifelines" that kept what has been identified as Osama bin Laden safe inside Pakistan were operated under the supervision of CIA operative Raymond Davis.  

"There were two safe houses in Abbottabad, one for "bin Laden," the other for the CIA. We are told that this explains why there was no Al Qaeda security detail. The CIA was in charge of that."Davis, arrested in Lahore earlier in the year, faced trial for murder until released because of cash payments made to the families of the victims.

"Davis led a super-secret CIA team thought initially by Pakistan to be coordinating Taliban and Indian terror networks. It is now reported that he was the handler for "the man from Abbottabad," the man America claims was Osama bin Laden.

"Reports indicate that Osama bin Laden wasn't captured for a good reason. The individual identified as Osama bin Laden was a replacement used in video and audio terror threats that have failed analysis and been debunked as counterfeit.

LOCALS CLAIM "BIN LADEN" IN PHOTO IS LANDLORD - LONG TIME NEIGHBOR (EAR ANALYSIS PHOTO PROVES IT)

"Documents identified by former FBI translator Sibel Edmonds and former Undersecretary of State Steve Pieczenik, a physician, clearly identify bin Laden as associated with the CIA long after he was identified as the leader of the shadowy Al Qaeda network.

"Pieczenik also confirms that bin Laden was fatally ill long ago. Multiple confirmations in Pakistan and the US have bin Laden dying in 2001, not long after he issued a categorical denial of complicity in 9/11.

IT'S BIN LADEN'S BIRTH CERTIFICATE WE REALLY NEED


"Not long after bin Laden's reported death, several "clones" appeared including one matching the appearance of the "bin Laden" who appears in videos captured in Abbottabad.

"It is not certain whether this "bin Laden" or a subsequent clone was the individual who may have been killed in the recent US operation.


SOFT TARGET FOR SEAL TEAM?

"One thing for sure, it was not the long dead CIA financier, Osama bin Laden."Sources report that the recent "bin Laden" operation was in retaliation for Pakistan's arrest of bin Laden handler, Raymond Davis.

"Other reasons with limited or unreliable confirmations claim the US wishes to blackmail Pakistan into appointing a new intelligence chief willing to "take orders" from Washington.

"Reliable reports from within the US intelligence community state that a major factor in the timing of the recent operation was tied to the "musical chairs" in Washington with Leon Panetta leaving the CIA to take over as Secretary of Defense upon the retirement of Robert Gates and the General Petraeus' move to take over the CIA.

"The killing of "bin Laden," real or a "clone" under Panetta's watch would prevent General Petraeus from becoming "unmanageable" were he able to make the same claim. Petraeus is cited for having presidential aspirations and the CIA directorship has been a stepping stone to the White House before as seen with George H.W. Bush.