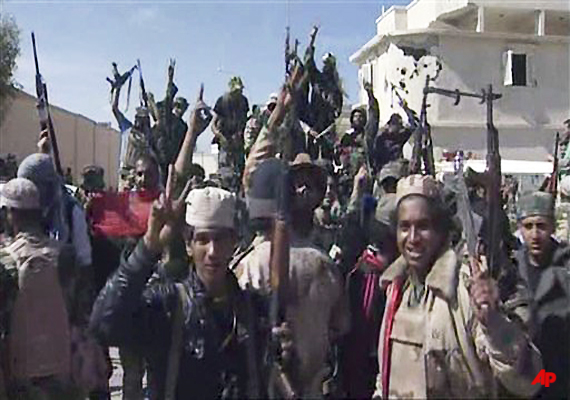 Sirte (Libya), Oct 20: Libyan fighters drove the last holdouts of Moammar Gadhafi out of his hometown of Sirte in a few hours of fierce gunbattles today, then declared victory over the last major resistance two months after the fall of Tripoli.

The ecstatic former rebels celebrated by firing endless rounds into the sky, pumping their guns, knives and even a meat cleaver in the air and singing the national anthem. 

In the central quarter where the final battle took place, the fighters looking like the same ragtag force that started the uprising eight months ago jumped up and down with joy and flashed V-for-victory signs. Some burned the green Gadhafi flag, then stepped on it with their boots.

They chanted "Allah akbar," or "God is great" in Arabic, while one fighter climbed a traffic light pole to unfurl the revolution's flag, which he first kissed. Discarded military uniforms of Gadhafi's fighters littered the streets.  One revolutionary fighter waved a silver trophy in the air while another held up a box of firecrackers, then set them off.

"Our forces control the last neighborhood in Sirte," Hassan Draoua, a member of Libya's interim National Transitional Council, told The Associated Press in Tripoli.  "The city has been liberated."

Despite the fall of Tripoli on Aug, 21, Gadhafi loyalists mounted fierce resistance in several areas, including Sirte, preventing Libya's new leaders from declaring full victory in the eight-month civil war.

Earlier this week, revolutionary fighters gained control of one stronghold, Bani Walid, and by Tuesday said they had squeezed Gadhafi's forces in Sirte into a residential area of about 700 square yards but were still coming under heavy fire from surrounding buildings.